Aerosmith announces farewell tour as Steven Tyler faces sex abuse charges, health concerns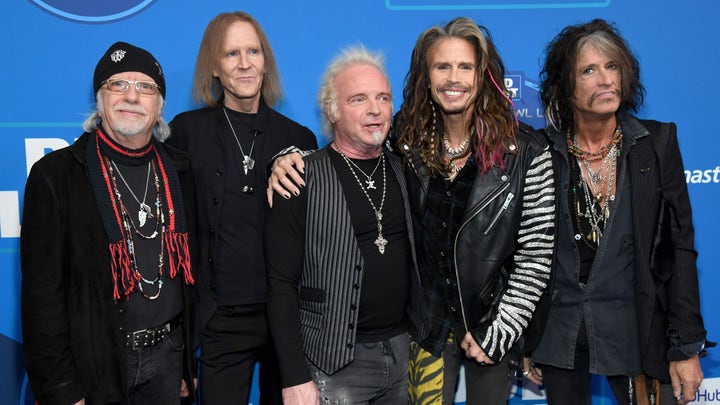 By Emily Trainham
Aerosmith fans will have one last chance to see the band perform live as the classic rockers announced their farewell tour.
The hit band, fronted by Steven Tyler, will embark on the "Peace Out" tour in Philadelphia on Sept. 12, then play 40 shows before wrapping it up in Montreal on Jan. 26.
Guitarist Joe Perry spoke out about the decision to retire from touring, citing the fact that all the band members are in their early to mid 70s as a big reason to give up this part of their careers.
The group, currently consisting of Perry, Tyler, Brad Whitford, Joey Kramer and Todd Hamilton, has been together since 1970, and in those 53 years, they've released hits like "Janie's Got a Gun," "Crazy" and "I Don't Want to Miss a Thing."
They performed those songs and more in their Las Vegas residency that finished last year, and Perry suggested that they'd pull some of the production value from the residency to use in the upcoming tour.
"It's kind of a chance to celebrate the 50 years we've been out here," Perry said. "You never know how much longer everybody's going to be healthy to do this.… It's been a while since we've actually done a real tour. We did that run in Vegas, which was great. It was fun, but (we're) kind of anxious to get back on the road."
In a statement to The Associated Press, Tyler said, "We're opening up Pandora's Box one last time to present our fans with the Peace Out tour. Be there or beware as we bring all the toys out of the attic. Get ready."
Although both Perry and Tyler referred to the upcoming tour as a farewell, Tyler did add, "It's the final farewell tour, but I have a feeling it will go on for a while. But I don't know how many times we'll be coming back to the same cities. It could very possibly be the last time."
They noted that, as with the end of the residency, Kramer, the band's drummer, would be replaced by John Douglas so that he could "focus his attention on his family and health."
Tyler had to pull back from performing recently to tend to health issues of his own.
The final six shows of the Las Vegas residency were canceled because of unnamed medical problems with Tyler, and he also pulled out of a gala in February.
At the time, his manager told the Las Vegas Review-Journal, "Steven's doctors have instructed him to take care of himself, but he will be back this year."
In addition to health issues, Tyler is also facing legal trouble after a woman named Julia Misley accused the singer of sexual assault, sexual battery and intentional infliction of emotional distress.
After Misley's lawsuit was filed last December, he officially responded in March.
In court documents obtained by Fox News Digital, Tyler didn't deny that he had a sexual relationship with Misley, who was 16 while he was 25, but instead claimed that the relationship was consensual. The musician also claimed he has immunity due to being the legal guardian of Misley at the time of the relationship.
Tyler requested that the lawsuit be dismissed with prejudice, meaning it could not be reinstated at any time.
https://www.foxnews.com/entertainment/aerosmith-announces-farewell-tour-steven-tyler-faces-sex-abuse-charges-health-concerns
About Post Author