Florida 6-time felon busted with enough fentanyl to kill thousands with 4-month-old in back seat, police say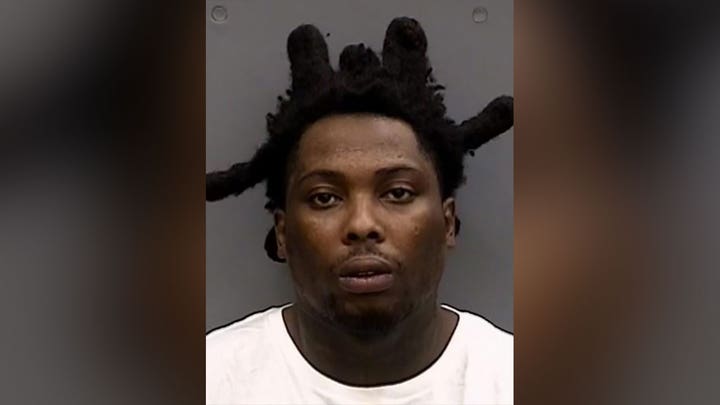 By Greg Wehner |
Florida law enforcement officials arrested a six-time convicted felon last week, who was allegedly in possession of enough fentanyl to kill 7,000, with his 4-month-old baby in the vehicle.
The Hillsborough County Sheriff's Office arrested Ricardo Guyton Jr. for armed trafficking of fentanyl, possessing a firearm as a felon and child neglect.
The sheriff's office said detectives with the department's Opioid Overdose Investigations (OOI) investigated Guyton's activities for two weeks before he was arrested.
When deputies arrested Guyton on April 27, a press release from the sheriff's office read, he was allegedly in possession of 14 grams of fentanyl, which is enough to kill 7,000 people, and a loaded handgun that was reported stolen from an unlocked vehicle in Temple Terrace in 2021.
The release also said Guyton's 4-month-old infant was in the vehicle during the arrest, which led officers to charge the suspect with child neglect.
In one image provided by the department, a handgun is spotted on the floor of the vehicle, next to a baby bag with a bottle in view.
"Fentanyl is one of the deadliest drugs on the market, and those who choose to distribute it will be held accountable," Hillsborough Sheriff Chad Chronister said. "The fact that a convicted felon like Guyton had access to a loaded firearm while trafficking fentanyl is extremely alarming. We will continue to work to protect our communities from the dangers posed by fentanyl and other illegal drugs.
The investigation into Guyton is ongoing and further charges against him are pending.
Anyone with information about drug-related activity in Hillsborough County are encouraged by the sheriff's office to call 817-247-8200.
https://www.foxnews.com/us/florida-felon-busted-fentanyl-kill-thousands-baby-back-seat-police?dicbo=v2-yt7Sm3H
About Post Author