Still no clues in at-risk Santa Rosa senior, missing 25 days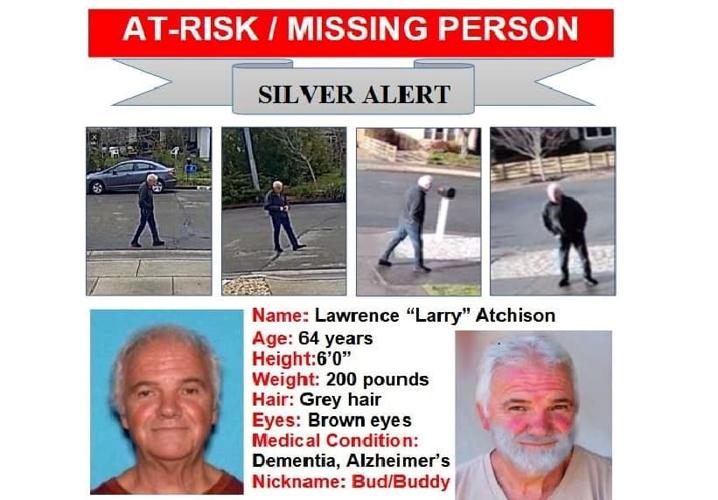 An at-risk 64-year-old Santa Rosa man walked out of his home at around 4 p.m. on Feb. 27 and has been missing ever since. Active law enforcement search efforts have weaned, but family is still searching.
The last visual confirmation of Lawrence "Larry" Atchison was on a neighbor's Ring camera at about 4:45 p.m. in Santa Rosa's Bennett Valley neighborhood, less than an hour after he went missing from his home, where he lives with his wife.
Atchison was diagnosed with dementia about three years ago. And while the family said that the disease makes him disoriented, they said he has never wandered from the home before.
The lack of clues government agencies have turned up, despite extensive search efforts that included the deployment of a half dozen search dogs and multiple drones and involved 11 agencies and more than 100 civilian volunteers has investigators at a loss.
Since his disappearance 25 days ago, Atchison's family has been searching for him round the clock and created a Facebook page for community to post any leads or updates and to share photos and updates on Atchison's whereabouts.
Atchison's step-son Pierre Gachet said that based on the Ring camera footage, he believes Atchison looked disoriented and was searching for some sense of direction.
The family has banded together to organize their own search efforts.
"It's been kind of discouraging because there's no new leads and we're scouring with the limited resources we have," said Gachet. "There's too many variables at play. We don't know where to go."
Gachet's mother, Cecilia Gachet-Atchison, is married to Atchison.
"My hope is to find him. We're not going to lose the hope of finding him," she said.
She is heartened by the community that she said has rallied to continue to hang posters, distribute fliers, contribute to a GoFundMe page started by a family member, and has aided in the family's search efforts.
"The community has been absolutely amazing. It's kind of breathtaking the way they have responded."
But Gachet-Atchison and her family are becoming increasingly frustrated that since the first week of the search — which the family said was extensive — the efforts from law enforcement agencies in charge of the case have "died down."
Sonoma County Sheriff's Deputy Rob Dillion that in his seven years in the department, he has never seen an investigation this large in scope not turned up any substantial information.
While the investigation is ongoing, the physical portion of the search, that covered a multiple-mile radius and spanned Feb. 27 to March 11, has been suspended until more information on Atchison's location becomes available.
The sheriff's office will continue to review information as it becomes available, but Dillion said investigations become increasingly difficult as time elapses and noted unique complications searching for missing persons with dementia.
"Because you're trying to find somebody with cognitive impairment, not necessarily any physical impairment, they can cover a lot of ground in a short amount of time and they can be heading in a direction friends and family cannot necessarily anticipate," said Dillion.
Atchison's family said that he enjoyed routine walks with family members but does not have a history of wandering. Given a foot injury and heavy rain, he had not been walking routinely since late last year.
The location Atchison was last seen — less than a mile from his home, was along a route he often walked with his stepdaughter Leslie Marina Bello, said Gachet-Atchison.
His last known location — on Horseshoe Drive walking eastbound, is near a Sonoma County Transit bus stop. It was the family's hope that Atchison boarded a bus and made his way to a homeless shelter ahead of the storms, but bus surveillance cameras did not turn up any footage of Atchison.
Dillion said storms — like the recent ones that ripped through the North Bay in recent weeks — add another layer of complications to cases like this, as they can erase physical evidence of people's footsteps. But he noted it is not out of the realm of possibilities that Atchison boarded a bus and made his way to a shelter in a different city.
"Every search that I've ever done that involved someone that walked away — they did amazing things that they weren't supposed to do. Is it possible that he got on a bus? Absolutely, that's the hope. Our goal with the search and rescue is to bring somebody home as quickly as possible. And the ultimate hope is bring them home safe," said Dillion.
Atchison stands 6 feet tall, 200 lbs., grey hair and brown eyes. He was last seen on Feb. 27 at 4:45 p.m. wearing a black jacket, blue jeans and black shoes. His family says his cognitive ability varies from day to day, but he does respond to the names "Lawrence" and "Larry."
Anyone with possible information about Atchison can call 911 or 707-565-2650.
https://napavalleyregister.com/news/local/still-no-clues-in-at-risk-santa-rosa-senior-missing-25-days/article_6105dd0a-ca8e-11ed-8908-7399d79c42b7.html
About Post Author