HarperCollins radically changes Agatha Christie novels to satisfy revisionists' preferred vernacular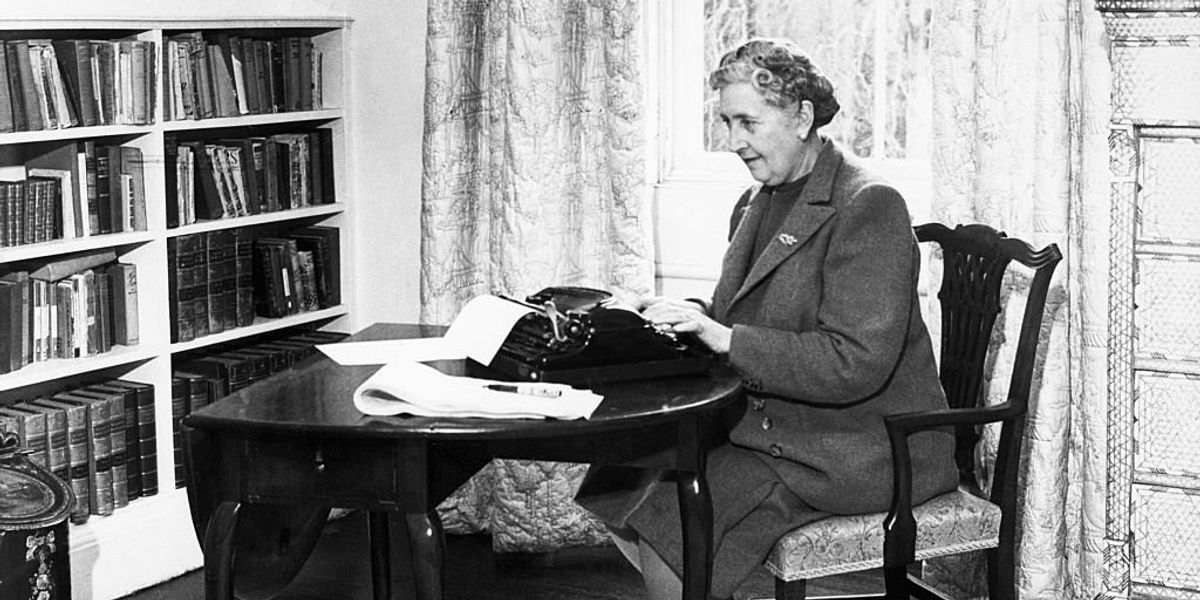 Amateur sleuths and keen-eyed detectives may have noticed something amiss about the new HarperCollins editions of several Agatha Christie novels. Words are out of place. Entire passages have been cut. One character was eliminated from a reissue altogether — without the fictional detective Hercule Poirot having been left so much as a clue.
Dame Christie's novels have received a similar treatment to that of Roald Dahl's and Ian Fleming's: They have been transmogrified by so-called "sensitivity readers."
The purpose of these rewrites is apparently to accommodate the sensitivities of those delicate readers who are ill prepared for language and ideas predating the latest leftist awakening.
Christie's detective novels: Meta-victims
The Telegraph reported that new HarperCollins editions of Christie's Poirot and the complete Miss Marple mysteries have been revised and "reworked" for "modern sensitivities."
Some of the doctored Christie books have been in print since 2020, whereas others are on their way.
There are "scores of changes," including alterations to Christie's narration. Miss Jane Marple and Herule Poirot's monologues have been sliced and diced. Unpleasant characters have had their dialogue tailored or dropped. References to ethnicity have been stripped, along with certain characters' innocuous racial observations and humor.
According to the Telegraph, the character of Mrs. Allerton in the 1937 Poirot detective novel "Death on the Nile" expresses her disdain for children. How she originally expressed this disdain was evidently unacceptable for the revisionists at HarperCollins.
Christie had Allerton say that the group of kids bothering her would "come back and stare, and stare, and their eyes are simply disgusting, and so are their noses, and I don't believe I really like children."
Courtesy of "sensitivity readers" at HarperCollins, the quote now reads: "They come back and stare, and stare. And I don't believe I really like children."
LGBT propagandist Juno Dawson noted in the Guardian that a "sensitivity reader is an additional editor who works alongside the publishing house staffer who acquired the rights to your book. This individual will conduct a very specific read of the manuscript, and offer notes on characters from marginalised groups, or elements which may cause offence."
Whereas a black servant in one Christie book had previously been described as grinning, now he is no longer black or emotive. Sensitivity readers dehumanized and reduced him to base mechanics, such that he is left just "nodding."
Just as smiling black men are verboten, references to "beautiful teeth" were all scrubbed from the Miss Marple novel "A Caribbean Mystery."
Sensitivity editors found various metaphors too troubling for today's readers. In the same novel, a description of a prominent female character — as having "a torso of black marble such as a sculptor would have enjoyed" — was edited out, thereby denying the character the suggestion of firmness, elegance, and classical beauty.
The sensitivity editors have reportedly committed literary genocide as well, eliminating the Nubian people from "Death on the Nile."
Instead of the "Nubian boatman," for instance, there is now only "the boatman" traversing the Nile, despite the fact that the Nubia is an ancient region extending from the Nile River valley to the shores of the Red Sea, inhabited today, in part, by hundreds of thousands if not millions of Nubians or Nobī.
HarperCollins' sensitivity editors have eradicated gypsies from Christie's works, too. Similarly, a character in "The Mysterious Affair at Styles" who had once been recognized as Jewish now enjoys no such heritage.
"Natives" are no more. There are now "local."
Jake Berry, a Conservative member of Parliament in the United Kingdom, denounced this latest revisionism with a quote from George Orwell's "Nineteen Eighty-Four": "Every book rewritten, every picture has been repainted, every statue and street building has been renamed, every date has been altered. … Nothing exists except an endless present in which the Party is always right."
Those who control the press control the future
Christie is not the first well-known author to have her works butchered posthumously in recent months.
TheBlaze previously reported that "James Bond" author Ian Fleming and "Charlie and the Chocolate Factory" author Roald Dahl suffered similar erasure in their works.
Like HarperCollins, Ian Fleming Publications Ltd hired sensitivity readers to purge the James Bond books of undesirable content ahead of their re-release in April to commemorate the 70th anniversary of the publication of "Casino Royale" – the first novel in the 007 franchise.
In addition to racial descriptors being eliminated and the cast of characters ultimately being rendered homogeneous, entire scenes have been edited out.
Bond originally witnessed a striptease at a nightclub in Harlem, New York, in "Live and Let Die."
"Bond could hear the audience panting and grunting like pigs at the trough. He felt his own hands gripping the tablecloth. His mouth was dry," Fleming had written.
The sensitivity readers reckoned the following was instead suitable for a modern audience: "Bond could sense the electric tension in the room."
One character was originally given an accent described as "straight Harlem-Deep South with a lot of New York thrown in." Now he has no accent to speak of.
The sensitivity readers who aided in the changes to the 2022 Puffin (Penguin Random House) editions of various Roald Dahl works — such as "Matilda," "James and the Giant Peach," "The Witches," "The Twits," "The BFG," and "Fantastic Mr. Fox" — denied the long-dead author even his own allusions.
TheBlaze noted that whereas Dahl had made passing mention of Rudyard Kipling, now the novel references Jane Austen instead.
In "The Witches," a passage that formerly read "'Here's your little boy,' she said. 'He needs to go on a diet.'" now only says "Here's your little boy."
This Dahl book and others underwent hundreds of changes, which some have suggested effectively collectivized the works, transforming them into Dahl-esque narratives that substitute the "contemporary sensibilities" of his publishers for Dahl's own.
Emboldened revisionists
Revisionists have not just targeted the works of dead authors, but have recently sought to rewrite the works of authors still around to raise a fuss.
TheBlaze reported earlier this month that R.L. Stine, author of the "Goosebumps" series of kids' novels, noted that the over 100 edits made to his book series, which have sold over 400 million copies, had been done without his knowledge.
Sensitivity readers and Scholastic editors covertly sanitized the language, removing references to slaves, language about being "crazy," and language suggesting characters are fat, among other edits.
Scholastic issued a statement after its covert efforts had been exposed, claiming that it had "reviewed the text to keep the language current and avoid imagery that could negatively impact a young person's view of themselves today, with a particular focus on mental health."
https://www.theblaze.com/news/harpercollins-radically-changes-agatha-christie-novels-to-satisfy-leftists-preferred-vernacular
About Post Author