3 students, 3 adults, shooter dead after Nashville school shooting, police say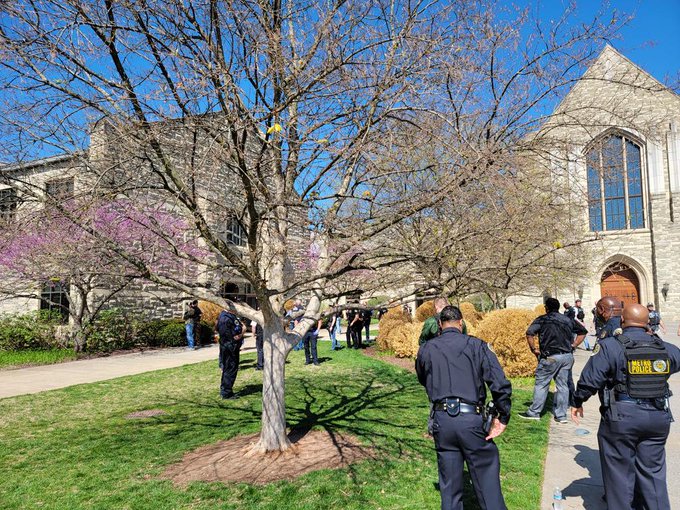 NASHVILLE, Tenn. (WSMV) – Multiple children and adults are dead, and an investigation is underway after a school shooting in Nashville Monday morning.
Three students and three adults are dead after being shot at Covenant Presbyterian School, according to the Metro Nashville Police Department. A 28-year-old Nashville woman entered the school through a side entrance with two assault-style rifles and a handgun police said. Officers arrived and entered the school through the first floor and heard shots coming from the second floor.
MNPD said the responding officers engaged the shooter on the second floor and killed her at 10:27 a.m. Her identity has not been released.
One officer sustained an injury from broken glass, according to MNPD.
"In a tragic morning, Nashville joined the dreaded, long list of communities to experience a school shooting," Nashville Mayor John Cooper wrote in a tweet Monday afternoon. "My heart goes out to the families of the victims. Our entire city stands with you. As facts continue to emerge, I thank our first responders and medical professionals."
The Covenant is located at 33 Burton Hills Boulevard, and Hillsboro Pike is closed from Harding Place to Hobbs Road for police at the scene.
A student reunification area has been set up by the Nashville Fire Department at Woodmont Baptist Church, at 2100 Woodmont Boulevard. NFD recommends that parents use this area to meet their students from the school.
Tennessee Governor Bill Lee and others have offered their support and prayers in response to the shooting.
I am closely monitoring the tragic situation at Covenant, & the @TNDeptofSafety & @TNHighwayPatrol are assisting local law enforcement & first responders at the scene.

As we continue to respond, please join us in praying for the school, congregation & Nashville community.

— Gov. Bill Lee (@GovBillLee) March 27, 2023
Tennessee Representative Bob Freeman offered this statement on the shooting:
WSMV4 crews are at the scene and are working to update this story with the latest information.
https://www.wsmv.com/2023/03/27/3-students-3-adults-shooter-dead-after-nashville-school-shooting-police-say/
About Post Author