Crying Utah State cheerleader goes viral for heartbreaking reaction to Aggies' first round exit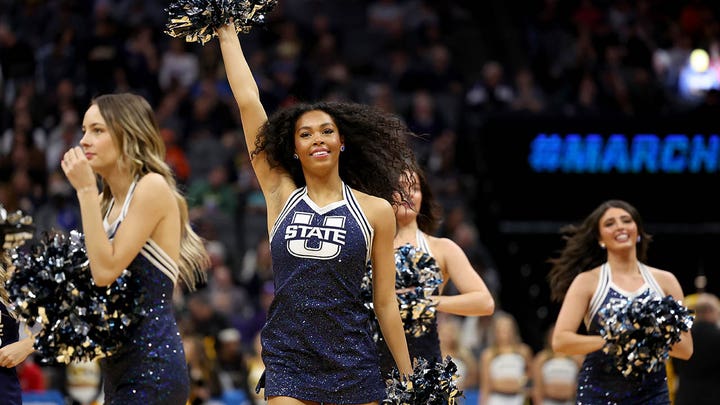 By Paulina Dedaj
Part of the magic that makes March Madness what it is are the unforgettable buzzer-beaters, the Cinderella stories and, of course, the viral fan reactions.
Unfortunately for one Utah State cheerleader, her heartbreaking reaction to the Aggies' first-round loss in the NCAA Men's Basketball Tournament to the seventh-seeded Missouri Tigers on Thursday night has become etched in tournament lore.
With time winding down and Utah State trailing by 12 points, TNT's broadcast panned over to the Aggies' cheer squad to catch one tearful member looking on.
After Missouri made a free throw, the cameras panned back and Twitter lit up in reaction.
The crying Utah State cheerleader is about to join the NCAA Tourney meme ranks with Villanova flute girl and Northwestern kid.

— Mitch Harper (@Mitch_Harper) March 16, 2023
Missouri went on to win its first NCAA Tournament game in 13 years, beating Utah State 76-65.
The Missouri Tigers advanced to play the 15th-seeded Princeton Tigers in the second round of the South Region, following the latter's stunning upset victory over No. 2 seed Arizona.
Utah State dropped its last 10 tournament games since beating Ohio State in the first round in 2001.