Detransitioning rally turns violent when Antifa shows up, participants left 'afraid' to speak out: organizer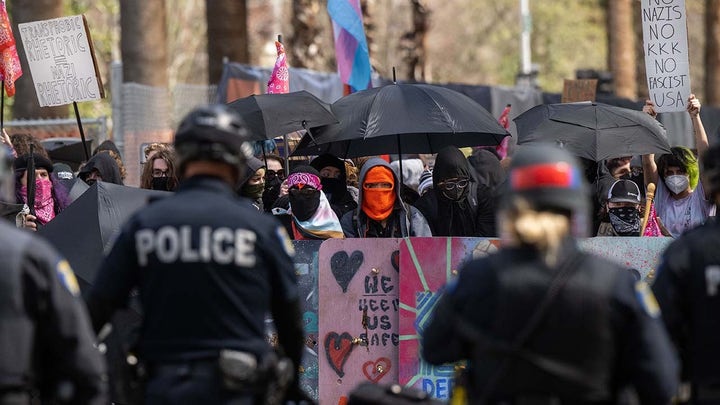 By Jon Brown
A violent clash last week between Antifa activists and journalists at a "Detransition Awareness Day" rally in Sacramento, California, has distracted from the issue and threatens to silence people whose stories should be heard, an event organizer said.
"It makes parents and detransitioners more afraid to come to these events," Erin Friday told Fox News Digital of the media emphasis on Antifa violence. "I didn't really want that to be the story, and of course, that's what the story is."
The Sacramento Police Department confirmed to Fox News Digital that there are multiple active investigations related to last Friday's Antifa protest, which was in response to a gathering at the California state Capitol organized by Our Duty, an international nonpartisan, non-religious group that advocates for "detransitioners" — people who have left a transgender identity.
While multiple detransitioners told their stories of regret on the steps of the Capitol, protesters associated with the Antifa-affiliated group Pride Was A Riot marched down nearby N Street near the Legislative Office Building to protest the event, according to the Sacramento Bee.
Protesters hit observers with clubs, and at least four journalists were assaulted as they documented the chaos, according to a reporter on the ground from The Epoch Times.
One man was wounded above his right eye and taken to the hospital in an ambulance. Police told Fox News Digital they arrested and booked 31-year-old Joseph Conradsen on multiple counts of assault with a deadly weapon and multiple counts of assault with force likely to produce great bodily injury.
A woman named Judy, who described herself as "a concerned parent" who attended the event with a friend whose 19-year-old daughter has struggled with gender identity, told Fox News Digital she witnessed the Antifa violence as it took place feet away from where she was positioned behind the police.
"What really bothered me is that after that happened, the guys were yelling at the cops," she said. According to footage, a bystander sarcastically thanked the police for doing a "great job" while a man emerged from the crowd of Antifa with a bloodied face.
I'm not quite sure what they thought the police should have done," said Judy, who noted that Antifa demonstrators never crossed the perimeter onto the grounds of the Capitol and that she never felt unsafe.
"If police had gone in there, there would have been a riot," she continued, adding there was an infant in a stroller among the crowd. "It was really obvious that the police were basically corralling them and moving them down the street away from us. They never crossed into our presence. So I felt safe the entire time, and we left safely."
"It's disappointing that got so much attention, instead of the actual event itself," she added.
Friday echoed Judy, telling Fox News Digital that the officers who protected the event were "amazing" and that they surrounded it and kept Antifa far away.
Noting she spoke with some of the reporters before the violence, she claimed they "were all jazzed up" about Antifa's presence, but that she urged them to avoid wading into the protest.
"My party has completely abandoned us, it has completely abandoned the family, and it will never recover from this. The thing people don't understand is that this doesn't just affect the child. It affects the entire family."
An attorney and mother of a daughter who left a transgender identity, Friday also said she is frustrated that Antifa has dominated the headlines about the rally, which she said has distracted from its goal of supporting detransitioners and raising awareness of the pain they and their families experience.
She said the rally was likely the largest gathering of detransitioners ever, and that many of them struggle with autism but were emboldened to publicly share their stories as they saw others doing so.
One of the speakers, 18-year-old Chloe Cole, gained national attention last month when she announced a lawsuit against Kaiser Permanente, alleging that the group pushed her "into medical mutilation," which the organization disputes.
Friday said her own daughter became a detransitioner after beginning to question her gender in seventh grade following a sex education class. The girls had been asked to pick from a spectrum of genders and an array of sexual identities, she said.
When the pandemic hit, Friday recounted that her daughter became isolated and fell in with older transgender people who were "grooming" her on social media apps.
Friday said her daughter's public school in San Carlos allowed her daughter to change her name and gender without her knowledge or consent. When she found out, Friday said she faced pushback from the school when she complained, and that Child Protective Services was called on her "after I told [the school] to go screw themselves."
"It's intimidation," Friday said. "I pulled her from that public school, and then it took almost a year and a half to pull her out of the trans cult. That's how it happens. It happens to liberals, it happens to good parents. And it can happen to anybody. You can think you're the best parent on the planet; doesn't matter."
Friday, who was a Democrat for 37 years before voting Republican for the first time in 2022, said transgender ideology as it relates to minors threatens to destroy the Democratic Party. She said the families at the rally, some of whom waved signs that read "Democrats For Detransition," were majority-Democrat.
"My party has completely abandoned us, it has completely abandoned the family, and it will never recover from this," she said. "The thing people don't understand is that this doesn't just affect the child. It affects the entire family. It affected my son, my relationship with my husband. It is a destroyer of everything it touches, and it touches everything."
https://www.foxnews.com/us/detransitioning-rally-turns-violent-antifa-shows-up-participants-left-afraid-speak-out-organizer