65-year-old man mauled to death by pack of dogs; woman carries gun to protect herself from dog attacks in town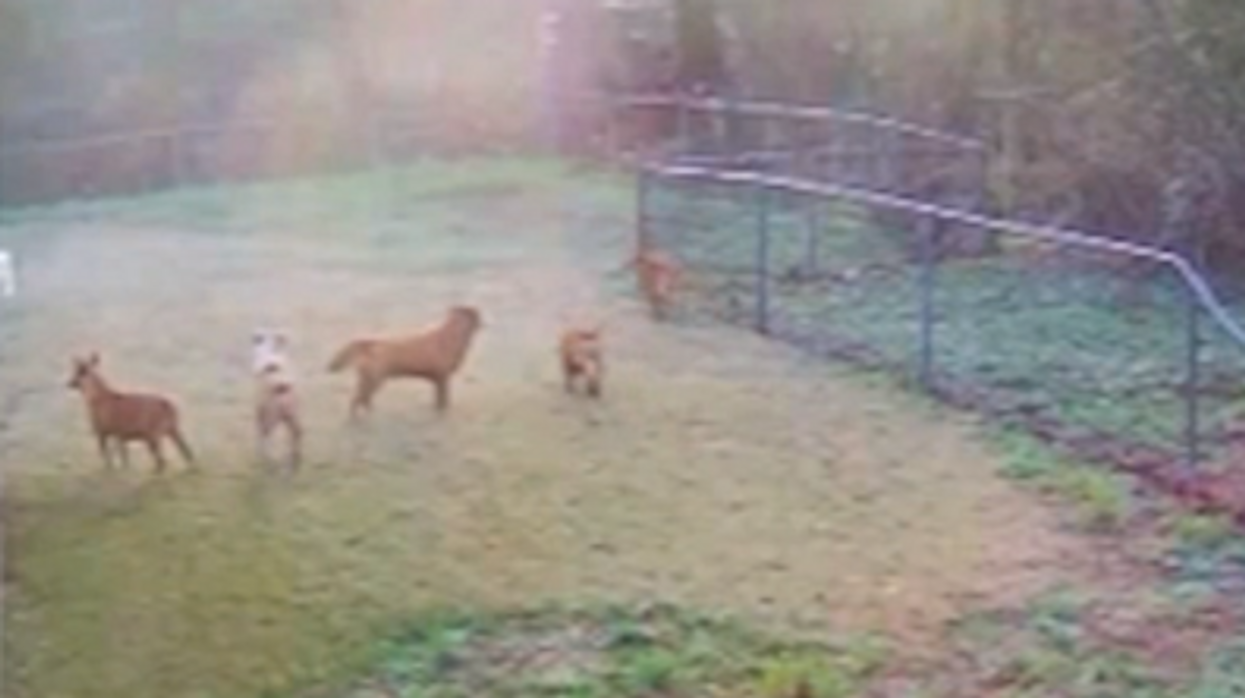 A 65-year-old Alabama man was mauled to death by a pack of dogs. Dog attacks are allegedly so common in the small Alabama town that one woman has been forced to pack a gun on her daily walks to protect herself.
Joe Cleveland Scott was killed by a pack of dogs in the community of McDonald Chapel, Alabama. Police say the dog attack happened just before 7 a.m. on Tuesday.
A passerby notified authorities after seeing the lifeless body on the road. Deputies with the Jefferson County Sheriff's Office found Scott unresponsive. Scott was pronounced dead on the scene at 7:08 a.m., according to Alabama.com.
The Jefferson County Coroner's Office performed an autopsy and determined that Scott's death was caused by the injuries "sustained during the dog attack."
Jefferson County Animal Control set up traps and captured the six large dogs suspected to have killed Scott. The dogs were taken to animal control facilities and euthanized.
Jefferson County Sheriff's Office Lt. Joni Money said, "It is unusual for somebody to be attacked. My understanding from these neighbors is these dogs have been in the area for a while and have not been aggressive."
However, others in the community say loose dogs have been a threat.
Douglas Peterson told WVTM-TV, "[I] had a cat in the backyard. They grabbed it, killed it and left it. Boom it's over. It could be pretty bad when they get together."
Consuella Lewis — who lives down the street from where the dog mauling took place — said there have been dangerous dogs in the neighborhood since at least 2021. Lewis told ABC 33/40 that she is so fearful of the roaming packs of dogs in McDonald Chapel that she carries a gun and a cane to protect herself during her daily walks in the neighborhood.
"I actually have to have my gun on me just to walk because the dogs are vicious," Lewis explained. "I would give a warning shot in the air for the dogs for them to 'shoosh' off and that worked at first but as they got used to it they just was like, 'We can still bite her she ain't going to do nothing.' That's when I started with the stick for bite marks and stuff."
Lewis said she had contacted Jefferson County Animal Control on multiple occasions regarding the roaming dogs in the neighborhood. However, she claimed that she was never given a response.
Allison Black Cornelius — the CEO of the Greater Birmingham Humane Society and representative for Jefferson County Animal Control — conceded that they had received calls, but admitted that a lack of staff prevents them from taking action.
"We've got 5 ACO's, I think Birmingham has 6 or 7. It's just we can't hire enough people to catch all of these dogs and make people safe. We need to prevent it," Cornelius told the TV news station.
Cornelius blames the increase of threatening dogs on irresponsible pet owners.
"Stop breeding dogs. If you're not a responsible breeder of dogs you need to get out of the backyard puppy business because that is exactly who's contributing to this," Cornelius said.
WATCH: "I actually have to have my gun on me just to walk because the dogs are vicious," said Consuella Lewis.

Lewis has lived in Mcdonald Chapel for more than 40 years. The amount of unkept and aggressive dogs she sees in her neighborhood has become a huge concern. @abc3340 pic.twitter.com/1SylrafCX8

— Kyra Purvis (@KyraPurvis_TV) March 2, 2023
https://www.theblaze.com/news/alabama-man-mauled-death-pack-dogs