Watch Completely Unprepared Drivers Slide Around in the Snow Near Lake Tahoe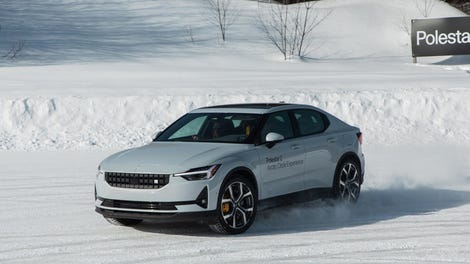 A weekend snowstorm stretching across western states proved challenging for the happy, shiny out-of-towners a little more used to sunny skies and dry roads who just wanted to experience a little winter wonderland.
Folks in places that almost never have snow saw accumulation in the inches over the weekend, SFGate reports, especially in California. Maybe that's why so many confidently entered the fray of snow (and traffic)-choked mountain roads over the weekend. The white stuff sent winter enthusiasts from California and Nevada scrambling to get up to popular destinations in the Sierra Nevada mountains straddling the two states—Lake Tahoe.
But mountain road driving is an entirely different beast than navigating two inches of slush in the Bay Area or the occasional downpour in Reno. That's where South Lake Tahoe Towing comes in. Tow truck drivers hit the mountain roads to rescue stranded weekend warriors while making some excellent content at the same time. The towing company posted videos to Facebook, one of which has already received over 180,000 views as of this writing.
And here's what it looked like from the driver's perspective as a Tesla slid into their Porsche Macan:
Part of the problem is GPS giving inexperienced drivers directions down unplowed and remote roads during high traffic wait times or when conditions force freeways to close—a fate locals can usually avoid, Sgt Alexander Sorey, of the El Dorado County Sheriff's Office told KCRA:
"Sometimes when highways close, the GPS will reroute them through areas that are not necessarily plowed," said Sgt Alexander Sorey, of the El Dorado County Sheriff's Office, Friday.

"Do a little research. Just because the GPS says there's another route available it doesn't necessarily mean it's the safest one to take," he said.

South Tahoe Towing did not answer our calls. They're likely pretty busy, as the area remains under a winter storm warning until the end of Monday, SFGate reports, with another eight inches of snow possible. The National Weather Service is urging driver to stick to essential travel only.

Tahoe already suffers from terrible traffic conditions from outdoor enthusiasts and snow bunnies alike. The annual influx of winter visitors can lead to hours-long traffic jams that leave long-time residents bitter, the San Francisco Chronicle reports.

https://jalopnik.com/watch-completely-unprepared-drivers-slide-around-in-the-1850164802