'I'm going to f***ing kill you': Surveillance catches women brutally beating grocery store clerk in brazen attack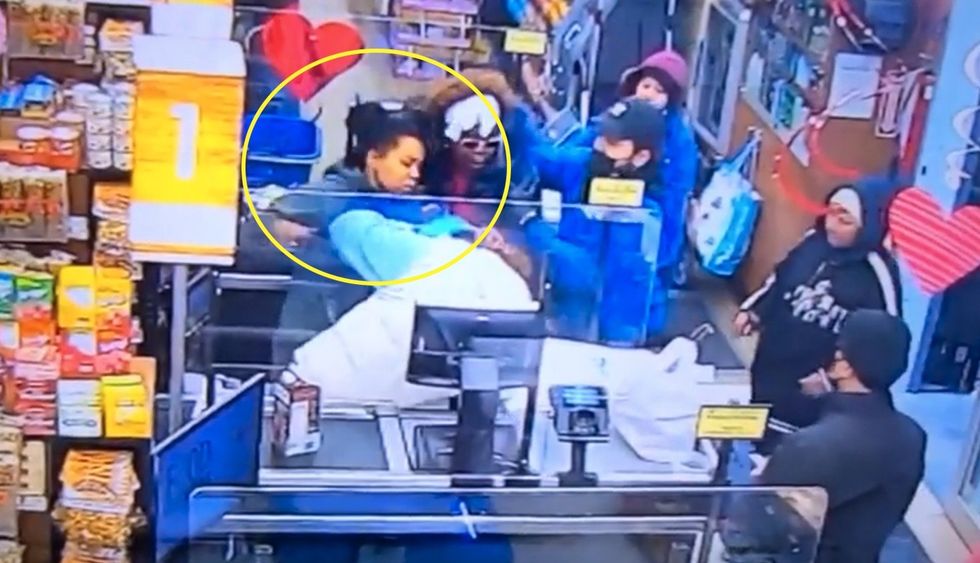 Surveillance video captured the moment a defenseless grocery store clerk was brutally attacked in the Bronx on Sunday.
Lisbel Rodriguez Luna was working her shift as a cashier at the Food Universe Marketplace Sunday afternoon when at least four women descended upon her cashier's booth and began pummeling her, repeatedly punching her in the head and yanking her hair.
Nearby employees and customers tried to intervene, but were unsuccessful. After performing their beatdown, the women ran away. Fortunately, Luna was not seriously injured.
Luna told the New York Post that she knew one of her attackers, not personally, but from an incident that happened several days prior to the assault. According to Luna, she had a run-in with a woman a week before after stopping the woman from cutting in a line to exchange recyclables for cash. The woman responded by threatening Luna.
"She said, 'B*tch, that's not your business. You better just give me my money,'" Luna recalled. "I'm going to kick your ass. I'm going to f***ing kill you. I'm going to bring my daughters and we're all going to kick your ass!'"
Luna said that incident left her "terrified." And it appears the woman made good on that promise.
Store manager Jose Minaya said that woman returned to the store on Sunday with three of her daughters and another older woman. Minaya said he tried to defuse the situation by moving Luna to a different part of the store, but the women "came in and just immediately attacked."
Police have not arrested any of the attackers, but they are searching for two of the women, WNYW-TV reported.
Anything else?
The owner of the store, Pedro Goico, told WNYW that he wants New York lawmakers to pass new laws that increase the punishment for assaulting grocery store employees.
The Collective Action to Protect Our Stores agrees. The group says assault on retail workers is a growing problem in the New York City area and wants lawmakers to act.
"Beyond the statistics on retail thefts going up, these are people — many immigrants — who are being attacked when stores are robbed. We need our leaders in city hall and Albany to step up to protect our workers, stores and ensure customers can shop in safety," the group said in a statement.
https://www.theblaze.com/news/bronx-grocery-store-clerk-attack#toggle-gdpr