Woman Eats Chip Potentially Worth $120K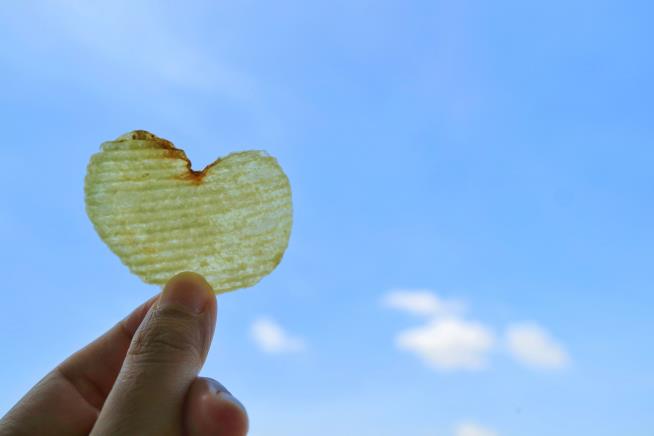 By Arden Dier,
A single mother in the UK may have missed out on a huge cash prize after eating an essentially perfect heart-shaped potato chip. Walkers Crisps (the British version of Lay's) is holding a contest, offering a £100,000 ($120,000) prize to the person who pulls the best heart-shaped potato chip from one of its bags. Walkers specifically put heart-shaped chips into its packages, which are marked with contest details. But Dawn Sagar tells the BBC she was unaware of the contest when she noticed the chip (see it here) in her bag of Walkers Ready Salted chips on Feb. 15.
"I suddenly thought, 'Oh, a heart, and I'll take a picture of it,' because it was the day after Valentine's Day," says Sagar of Shropshire. The 40-year-old supermarket employee sent the photo to friends, but by the time they warned her not to eat the chip, she already had. According to contest rules, entrants must preserve the chip and the chip bag. "I googled it and went, 'Oh yeah, that's it. Too late," says the mother of two. "I was gutted, but … it is not the end of the world," she adds, per the Mirror, noting the prize money "would have made my life a little bit happier" or "it might have made me miserable."
She's not the only one kicking herself. A TikToker in Wales shared a video on Feb. 2 showing him eating a chip followers later told him was likely one of the heart-shaped additions, per Insider. "I think I may have just eaten the £100,000 Walker's crisp," Cory of @corysworldd said in a subsequent video, urging followers to tag the brand "so we can sort this situation out." The company responded that he was out of contention for having eaten the chip. "I can't help but laugh about it," he says, per Insider. Heart-shaped chips can prove valuable outside of the competition, which ends March 20, with some selling for up to $20,000 on eBay.
https://www.newser.com/story/332009/woman-eats-chip-potentially-worth-120k.html