Georgia police rescue 17 pit bulls from dog fighting property kept in 'heinous' conditions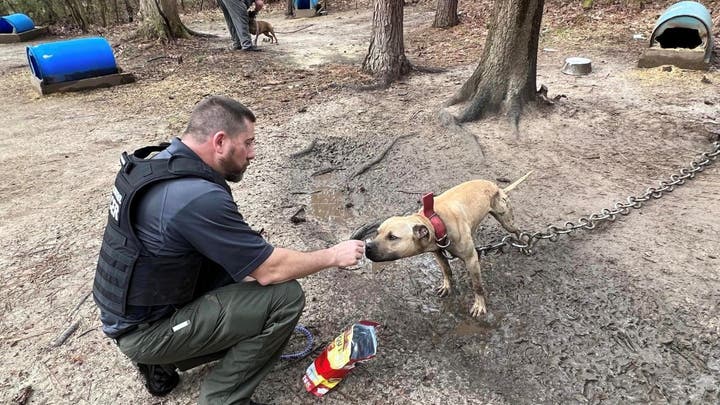 Police in Georgia busted a dog fighting operation this week and shared touching photos of officers rescuing more than a dozen dogs from the property.
The Floyd County Police Department posted that Jacob Driver Jr., 50, was arrested at his home Tuesday morning after police showed up and charged him with "felony violation of the dog fighting statute and cruelty to animals" based on an investigation into the training and fighting of dogs on another property.
Police say they removed 17 pit bulls that "were found chained in the half-acre yard behind a privacy fence" on one property and another pit bull from Driver's home.
"When police arrived the dogs were restrained with heavy industrial chains anchored in the ground by car axles that were buried in the ground," the post said.
"Floyd County Public Works assisted police with pulling the heavy anchors from the ground to destroy the illegal training facility."
Floyd County Police say that Driver tracked the history and performance of the dogs to show their value to advertise them for breeding. Evidence was found he groomed the animals to increase hostility and agitation toward other dogs.
Police also found equipment meant to build the strength and endurance of the animals that include thick collars, heavy chains and weighted vests. The combined weight of the 17 chains was almost 170 pounds with the heaviest chain being 20 pounds.
"No dog should ever endure some of the training these dogs have gone through," Officer Kelsi Wade told Fox 5 Atlanta.
"There were a few males on scene that had scarring on their front legs and chest and facial area, indicating they may have been fought or it may just be from training," Wade added.
"Most of them may be young enough where they will be able to be couch dogs, get treats all of the time and get true human love and affection. No dog should ever endure the training these dogs have gone through. It's horrifying, it's heinous and it's awful."
Driver has been charged with felony violation of the dog fighting statute and cruelty to animals.
A spokesperson for the Floyd County Police Department told Fox News Digital he believes the dogs are currently with private boarders.
https://www.foxnews.com/us/georgia-police-rescue-17-pit-bulls-dog-fighting-property-kept-heinous-conditions