An Alabama basketball star allegedly supplied the gun in a murder. Why is he still playing?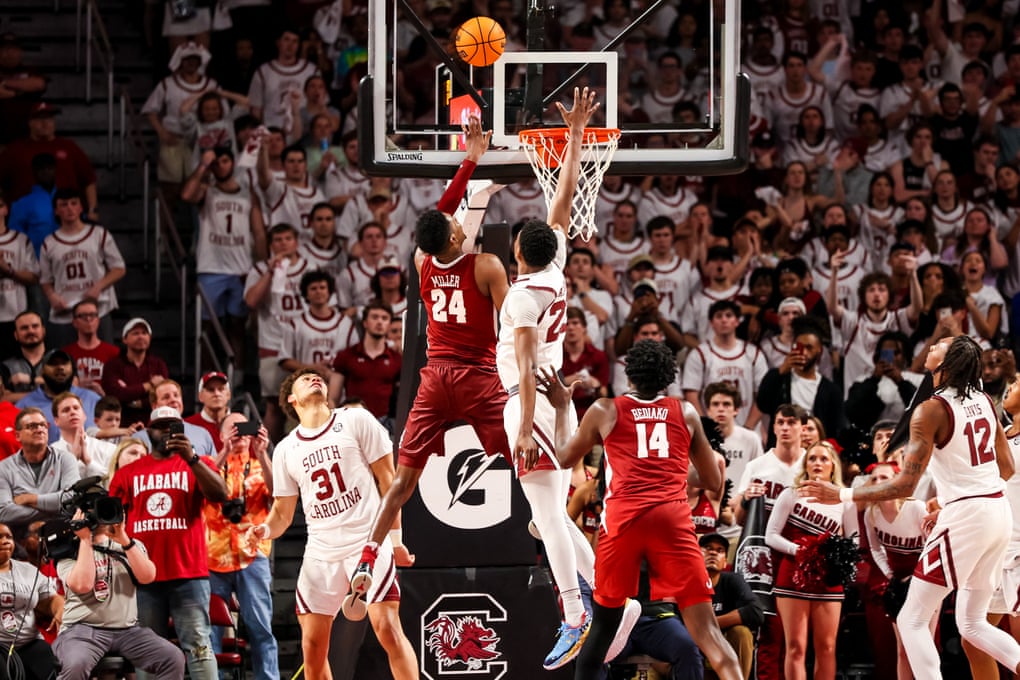 B
y all accounts Jamea Jonae Harris was a star in her own right. Just 23, she already seemed to have it all: brains, beauty, happiness, humility and a five-year-old son who was her entire world. She booked off a weekend in January to spend with her cousin, a student at the University of Alabama. With her boyfriend, Harris made the hour drive from her Birmingham home to the college town of Tuscaloosa. After a Saturday night spent clubbing with friends, Harris headed for home in a black Jeep with her boyfriend and cousin, stopping for a late-night bite at a greasy spoon in the shadow of Bama's football stadium. It was just their bad luck.
According to Harris's mother and cousin, the trio were waiting on their food when two men approached, desperate for Harris's attention. The more they refused to take no for an answer, the more the tension rose. Attuned to the vibe shift, Harris's boyfriend proposed they just forget the food and leave. But Harris and her companions were reportedly blocked in by two cars and fired upon by one of the men who had approached her. Harris's boyfriend shot back with his own firearm and hit the gunman twice, then tried to steer the group to safety.
Struck once, Harris was the only person in the exchange not to make it out alive. Her death probably would have been written off as yet another inevitable consequence of urban gun violence, if police hadn't said members of Alabama's high-flying basketball team were involved.
The men who couldn't take no for an answer? Police say one of them was Darius Miles, a lightly used junior player for Alabama. He was arrested on capital murder charges and booted from the team, less than a month after being shut down for the year with an ankle injury. The second man, 20-year-old Michael Lynn Davis, Miles's best friend but not an Alabama player, was likewise arraigned and fingered as the triggerman. Both remain in jail without bond.
In an attorney statement, Miles professed to being "heartbroken" over Harris's slaying. And if those words didn't ring hollow then, they certainly did after investigators testified in a Tuesday pretrial hearing that the gun belonged to Miles and that he had sent word via text to have it brought to him. Even more stunning: the alleged courier was Brandon Miller, Bama's first-year hoops phenom. Police also say freshman guard Jaden Bradley was also on scene that night. Neither Bradley nor Miller face criminal charges.
On the vast spectrum of college hoops scandals, this has the frame of an all-time catastrophe – something on the scale of the murder that rocked Baylor University's basketball team in the mid-aughts. So far, the NCAA and the Southeastern Conference have maintained deafening silence on the matter. On Wednesday night Miller was in the starting lineup again for Alabama's game at South Carolina. In a statement before tipoff, the athletics department threw its support behind Miller, describing him not as a suspect but as a "cooperative witness". Gamecocks fans, on the other hand, were as forgiving as you'd expect, booing and chanting "lock him up" whenever Miller touched the ball. (Miller, for his part, responded with a career-high 41 points including the game-winning basket in overtime.)
You would think that Miller's alleged involvement in the case would give the Tide pause for thought about whether to play him until all the details are clear. After all, they kicked Miles off the team as soon as his name became associated with the case. The difference, Alabama may argue, is that Miles has been charged with a crime and Miller has not.
Speaking to ESPN, athletics director Greg Byrnes said that the school's faith in Miller was reinforced by information that came to light over the past 48 hours; not least is the contention that Miller was already on his way to pick up Miles, who had been asking for a ride for the better part of an hour before relaying that fateful message about the gun. One of the attorneys further argues that Miller never even touched the gun, much less saw it.
Some may point out the manifest difference in Alabama's (correct) treatment of Miles, a bit-part player, and how they handled Miller, one of the most talented young stars in the country on a team in the running for a national title. This much, however, is clear cut: the Crimson Tide have treated Miller's involvement in the case as merely a stumbling block in a successful season, no worse than Miles's ankle injury or a 15 February defeat to Tennessee that dropped Alabama in the AP poll.
That Miller has escaped legal culpability has furnished the program with an awful lot of cover. Asked why Miller won't be charged, Tuscaloosa district attorney Paula Whitley told AL.com "there's nothing we can charge him with". Her office would appear to lack proof that Miller was aware he was transferring the gun to Miles for an unlawful purpose. As if someone might ask for their gun late at night for a twilight hunt.
What is not in doubt is Alabama's handling of a case that saw a young mother die. When confronted with the initial news of Harris's death, Crimson Tide coach Nate Oats was quick to pivot focus to his team's forthcoming game against Vanderbilt.
In a Tuesday news conference, Oats said the team closed that day's practice with a prayer "for the situation", calling it "sad". Jarringly, on Miller's involvement, Oats saw it as a case of "wrong spot at the wrong time", adding "I'm sure NBA scouts will ask."
And he must have known how terrible it sounded to reduce a woman's death to its effect on a player's NBA prospects, because he later released a statement through the university labeling his earlier remarks unfortunate. "In no way did I intend to downplay the seriousness of this situation or the tragedy of that night", the statement read.
The fouled-up public relations job was enough to make me wonder where Oats was receiving crisis management advice. And when I soon found out that he had reached out to Ray Lewis, the born-again NFL linebacker who had murder charges against him dropped on the way to a Hall of Fame career, well, suddenly everything made sense.
Alabama have so much at stake, after all. College basketball is less than three weeks away from Selection Sunday, where the Tide hope to lock up their first ever No 1 seed in the NCAA tournament. Miller could well become the school's highest draft choice since low-post leviathan Antonio McDyess went second overall to the Denver Nuggets in 1995. The payoff potential is especially enormous for Oats, a one-time small-timer who could well deliver the very thing predecessors like NBA champion guard Avery Johnson had promised: bringing Bama's basketball team level in prominence with Nick Saban's formidable football factory.
In the aftermath of her daughter's passing, Harris's mother reportedly agonized for days over how to break the news to Jamea's five-year-old son while reckoning with her own sense of devastation. That Alabama seems to be more worried about results on the court than an actual murder should tell you everything you need to know about the current state of collegiate athletics and the power of athletic privilege. It's just unfortunate that even after Harris's tragic killing has exposed the paradox at play here, we're still left wondering whether her loss will ultimately count.
https://www.theguardian.com/sport/2023/feb/23/brandon-miller-alabama-basketball-murder-jamea-harris