White students bow down to black classmates for teacher's TikTok skit — educator suspended for using kids as 'political props'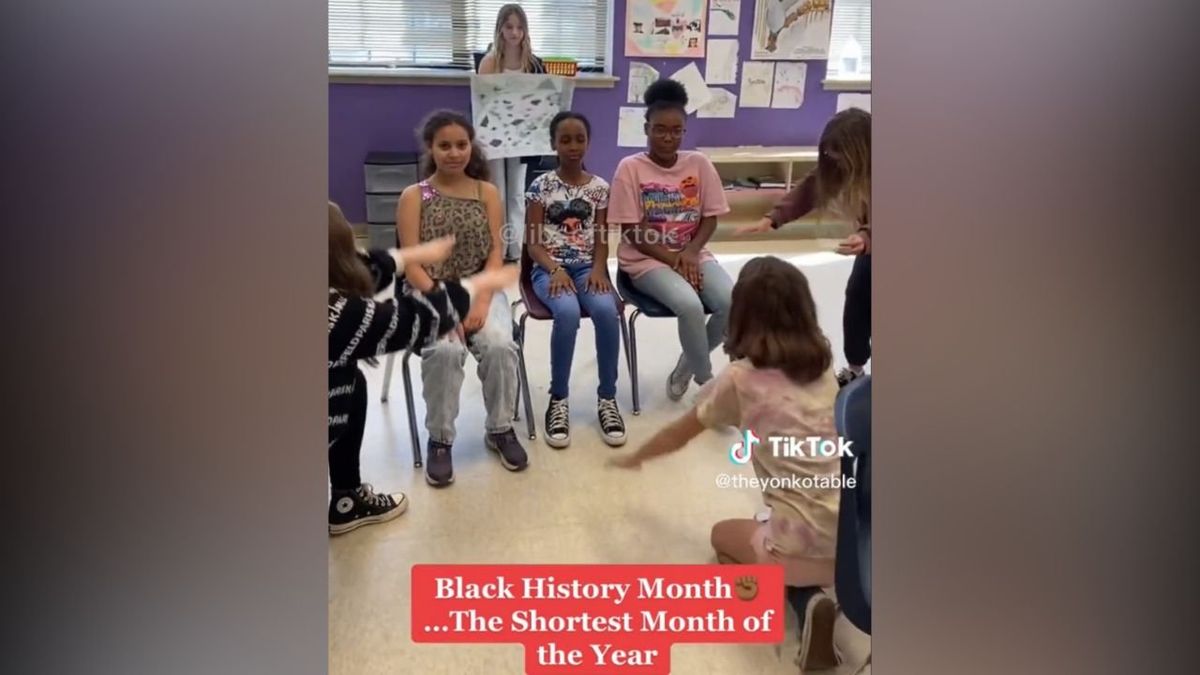 A Florida teacher was recently suspended for using kids as "political props" after parents discovered a social media video showing white students bowing down to their black classmates, the New York Post reported.
Ethan Hooper, a sixth-grade language arts teacher at Howard Middle School in Orlando, Florida, was placed on administrative leave after he posted a video to his personal TikTok account that showed white students fanning, feeding, and bowing down to their black classmates to commemorate black history month.
Hooper's controversial video was one of several that mocked Florida Department of Education policies backed by Republican Governor Ron DeSantis.
In July, DeSantis' "Stop WOKE" Act was enacted, which forced school districts to remove books from school libraries and classrooms that espouse critical race theory or include sexually explicit material.
In one of Hooper's satirical social media videos, the educator interrupts students reading harmless children's books and mockingly claims that the titles are "problematic" and therefore banned.
"You reading Harry Potter?" Hooper asked one student.
"Witchcraft. Got to go," the teacher claimed while removing the book from the child's possession.
While the students who participated in the videos appeared to be giggling, some parents were not amused by the teacher's satirical TikTok skits.
One parent, CJ Johnson, told WKMG-TV the videos were an inappropriate offense.
"If one of the teachers was using my kid for political gain, that would upset me," Johnson said. "What if I don't believe in that, and, you know, that's not what I'm teaching my kid."
Other students and parents came to Hooper's defense.
"We all agreed to it," Jania Jackson, a student in Hooper's class who appeared in one of the videos, told WESH-TV. "He didn't really do anything wrong."
Jackson's mother, Shauna Thompson, told the outlet, "The fact that the students really devised the content specifically means that it's something that matters to them. And to say that they were used as pawns is false."
"The other example my daughter showed me was for Black History Month. They put some Black students on the chairs, and then the white students were fanning them and making them comfortable. You know, it's awesome, it's beautiful, it's celebratory, and I loved it," Thompson added.
Hooper, who has since taken down the controversial videos, told WESH he is sorry.
"It was in good fun. There was no political agenda behind it. It's [the TikTok video] being maliciously used, and I am deeply apologetic toward the students and parents of those involved. I am also sorry to the students who weren't involved," Hooper said. "I want to be an example for them. If this does not match up with what they viewed [of me], I am truly sorry. My heart is for my students and the parents, first and foremost."
Orange County Public Schools superintendent Maria Vazquez released a statement in response to the videos, saying, "I am appalled at the behavior and judgment of the teacher who posted the inappropriate videos using his students as political props."
"This is not free speech — it is the exploitation of our students for political purposes and it will not be tolerated in our school district," Vazquez continued.
According to the district's media manager, Michael Ollendorf, Hooper will likely be fired.
"Any employee of who creates videos or other content with students in an effort to exploit them for political purposes will be immediately removed from the classroom, placed on administrative leave and swift action will be taken to terminate employment," Ollendorf said.
This Florida teacher made students participate in a skit for black history month where white students act like servants for black students pic.twitter.com/g29SgNd3pn

— Libs of TikTok (@libsoftiktok) February 17, 2023
https://www.theblaze.com/news/white-students-bow-down-to-black-classmates-for-teacher-s-tiktok-skit-educator-suspended-for-using-kids-as-political-props
About Post Author