Cops: TikTok Challenge Drove Teens to Act Like Kool-Aid Man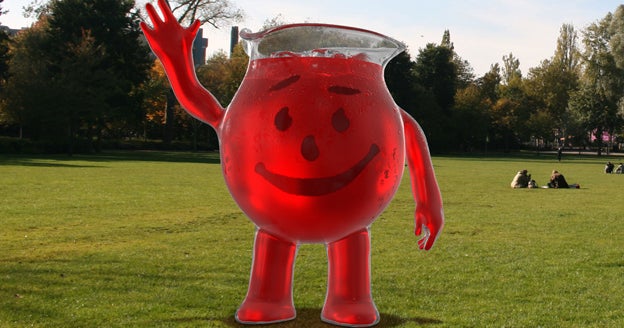 By Jenn Gidman,
Another day, another stupid TikTok challenge. This time it involves a group of Long Island teens who allegedly decided to emulate the Kool-Aid Man's move of busting through walls—except in their case, they're accused of kicking down local fences. Fox News reports that Suffolk County police arrested five minors and one adult, all males between the ages of 12 and 18, after a homeowner in Centereach heard a commotion outside his house around 1am on Monday. It "sounded like a gun go off," retired corrections officer Charles Damiani tells NBC New York, noting that he ran outside and found multiple sections of his fence broken down.
Surveillance video showed a group of teens breaking through the fence. Damiani called the cops, and they showed up at the residence about three hours later so he could make a statement. As they were talking, Damiani again heard clatter coming from somewhere near his fence. This time, "I ran into the road and I jumped in front of the car and stopped them," he says. Police found the six suspects in the vehicle, called their parents, and ticketed them.
"They were just driving around kicking down fences," Damiani says. "You're 12 years old, you're out at 3 o'clock in the morning—where are your parents?" Police say it appears at least four other homes in the area were hit by the same perps, though an investigation is still underway. Both Fox and NBC note that the incidents appear to be linked to a TikTok challenge in which participants try to bust through walls, doors, fences, and other structures like the iconic Kool-Aid mascot who seemed to dominate TV commercials in the '70s and '80s. The six suspects were charged with multiple counts of criminal mischief and released. They'll next appear in court on March 6.
https://www.newser.com/story/331886/cops-tiktok-challenge-drove-teens-to-act-like-kool-aid-man.html
About Post Author