Sheriff Offers Valentine's Day Special with 'Platinum Bracelets' for Exes with Warrants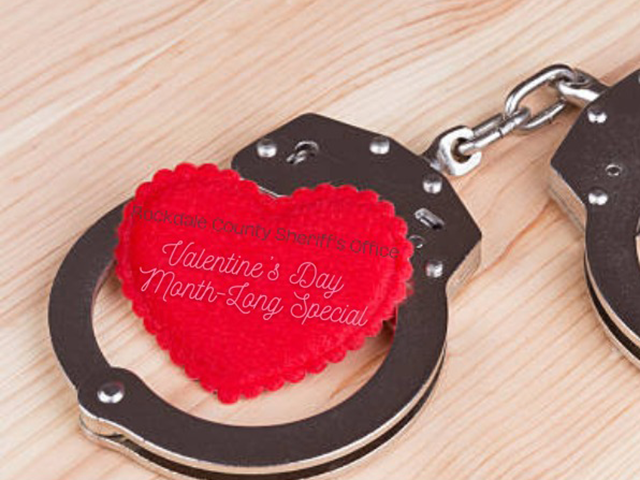 A sheriff's office in Georgia has a unique Valentine's Day idea for people whose exes have outstanding warrants.
The Rockdale County Sheriff's Office said Thursday there is one day in February when people celebrate those they love, "However, you don't want to forget those ex's that did you wrong either, right?" the agency's post read:
This year the RCSO is now offering a Valentine's Day Month-Long Special, including a set of platinum bracelets that sparkle, free transportation with a chauffeur, a one-night minimum stay in luxurious accommodations, capped off with a special Valentine's dinner, and professional glamour shots that will be posted online for all to enjoy.
 Authorities also deemed the "special" all-inclusive and free to citizens.
"Do you have an ex-Valentine and know they have outstanding warrants? Give us a call at (770) 278-8183 or email SOFugitive@RockdaleCountyGA.gov with their location & WE ARE ON THE WAY!" the post concluded.
February 14th is the day people all over the world give candy, flowers, and gifts to the people they love in honor of St. Valentine, according to History.com:
Where did Valentine's Day originate from? The history of the holiday — and the story of its patron saint — is shrouded in mystery. We do know that February has long been celebrated as a month of romance, and that St. Valentine's Day, as we know it today, contains vestiges of both Christian and ancient Roman tradition.
Meanwhile, the sheriff's followers shared their opinions about the idea, one person commenting, "To Whoever came up with this… YOU ARE GREAT!"
"No thank you. I like my own accommodations," another jokingly replied, while someone else said, "Love it. This is seriously the best I've seen yet."
Meanwhile, a humane society in Hamilton, Ohio, came up with a similar idea for residents needing a smile on Valentine's Day this year, Breitbart News reported Sunday.
"Do you have a crappy ex? Don't spend this Valentines Day down in the dumps! Instead, cheer yourself up while making a difference for animals in need!" the Animal Friends Humane Society wrote in a social media post.
"For a $5 donation we will write your Ex's name in a litterbox and give it to the cats, to let them do what they do best!" the announcement said.
https://www.breitbart.com/health/2023/02/10/sheriff-offers-valentines-day-special-platinum-bracelets-exs-warrants/