Video: British authorities attempted to defuse a 550-pound World War II bomb but it unintentionally detonated in a huge explosion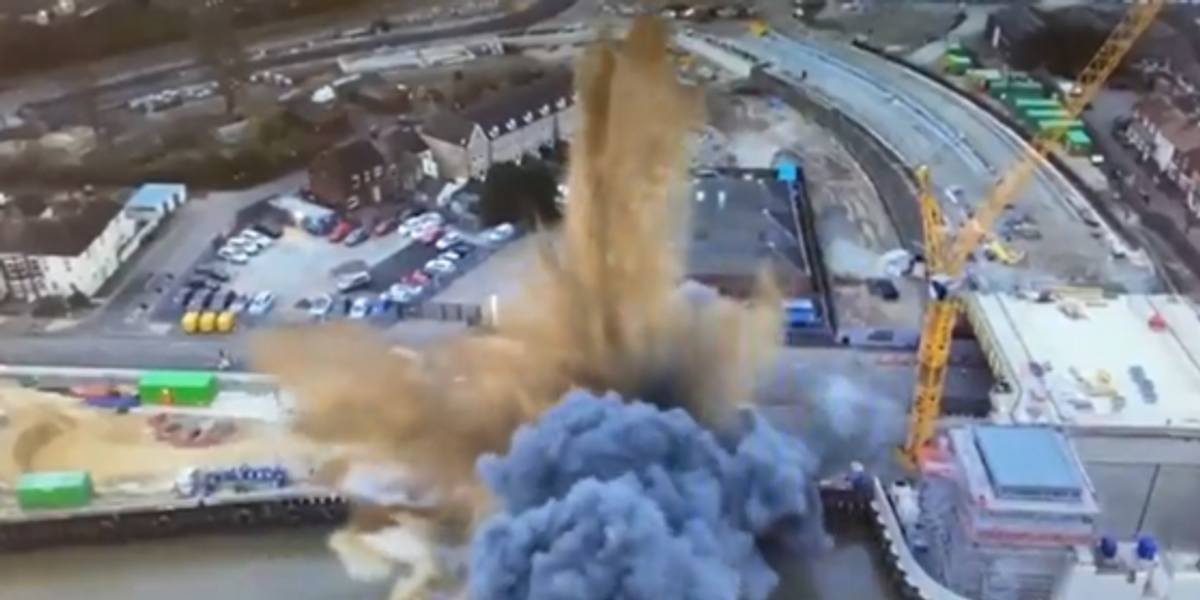 British authorities attempted to defuse a 550-pound bomb from World War II on Friday. However, the effort blew up in their faces when the bomb unintentianlly detonated in a huge explosion in the eastern seaside British town of Great Yarmouth.
On Tuesday, a 3-foot-long device was discovered near two gas pipes by a contractor who was doing dredging work for a new bridge over the Yare River. Experts determined that the device was a WWII bomb.
Authorities immediately ordered the evacuation of 230 buildings in the area and cordoned off the area. Then a sand wall was constructed around the bomb to contain the explosion.
Officials planned to cut the fuse of the bomb with a robot by using a technique that creates a slow burn of the explosives on Thursday. They then were going to perform a controlled detonation of the explosive, and then move the bomb out to sea or to a military range for another controlled explosion, according to the BBC. However, the operation was called off when the sand wall was compromised.
The authorities repaired the sand box barrier and prepared to defuse the bomb on Friday. Members of the U.K.'s Army Explosive Ordnance Disposal team were attempting to disarm the World War II bomb when it exploded in an unplanned detonation on Friday.
The massive explosion caused buildings to shake as far as 15 miles away.
There have been no reports of injuries or casualties.
There is no indication that the blast caused damage to the nearby gas pipes.
"The approach had been the safest option to disarm the device. However, it always carried a risk of unintended detonation. Thankfully, all personnel have been accounted for and agencies are coming together to assess damage to the river wall," said Norfolk assistant chief constable Nick Davison.
Master Sgt. Nathan Clark said, "If you imagine what that explosion would have looked like without that [mitigation] it really would have been a catastrophe, a 250kg bomb. We knew if that was detonated it would have caused serious damage and threat to life and that is why the military, in partnership with Norfolk public services, have done what they've done."
A Norfolk Police drone captured the moment the World War II bomb exploded.
The unexploded bomb in #GreatYarmouth detonated earlier during work to disarm it. Our drone captured the moment. We can confirm that no one was injured. Public safety has been at the heart of our decision making all the way through this operation, which we know has been lengthy. pic.twitter.com/9SaeYmHkrb

— Norfolk Police (@NorfolkPolice) February 10, 2023
https://www.theblaze.com/news/world-war-ii-bomb-explosion-video