People Around the World Ask to Adopt Baby Born in Rubble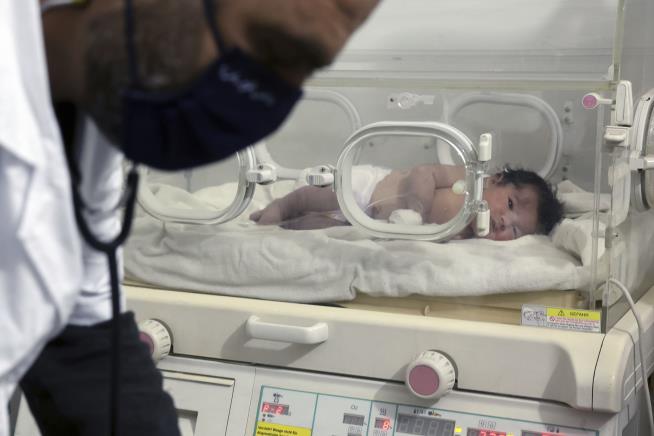 By Bob Cronin,
Offers are pouring in by the thousands from around the world to adopt the baby born in the rubble of a Syrian apartment building after Monday's earthquake. She's being treated in a hospital in Afrin after her parents and all four of her siblings were killed, USA Today reports. "I'd love to adopt this precious baby," one person said on TikTok. "I'd give her a loving home," a tweet said, per CBS News. "She'll have two sets of grandparents and cousins of all ages. My family would be complete." Nobody's adopting Aya—the name she's being called by, which is the Arabic word for miracle—just yet, the manager of Cihan Hospital said.
"Until her distant family returns, I'm treating her like one of my own," Khalid Attiah said. Aya will be taken in by her great-uncle, Salah al-Badran, who is living in a tent with 11 people from his household; his house was destroyed in the earthquake. Until then, Attiah's wife is breastfeeding Aya along with their 4-month-old. The pediatrician caring for Aya said her condition is improving daily after she was brought to the hospital cold, bruised, and barely breathing. "Had the girl been left for an hour more, she would have died," said Dr. Hani Marouf.
https://www.newser.com/story/331458/scores-ask-to-adopt-baby-born-in-earthquake-rubble.html