Dad shares video of son getting a mani-pedi after teacher told him it was "only for girls"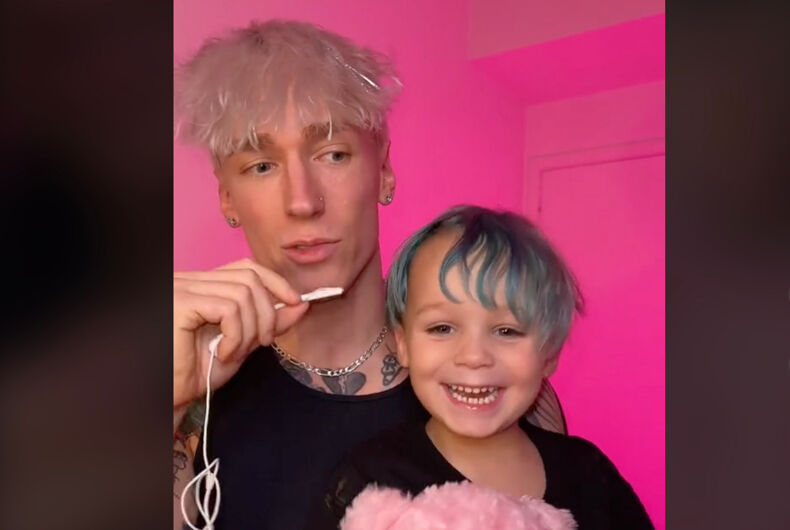 By John Russell
A California dad posted video of his son getting a mani-pedi after the three-year-old's teacher told him that "painting your nails is only for girls."
In a TikTok post on Saturday, Los Angeles County teacher Christian Shearhod shared how upset his toddler, Ashton, was.
"Yesterday, my son came home from school really upset because his teacher told him that painting your nails is only for girls," Shearhod says rolling his eyes. "So today I'm taking him to the nail shop!"
In the clip, Shearhod and girlfriend Eden take Ashton to a West Hollywood nail salon where the excited tot picks out pink nail polish and insists on having both his finger and toenails painted.
After the post went viral, garnering over four million views, Shearhod posted several more clips addressing the issue. In one, Shearhod appears to be addressing another one of Ashton's teachers, who remains off camera. "So, one of his teachers, I don't know, keeps telling him that he shouldn't paint his nails and it's only for girls and stuff," Shearhod says. "I just don't want that to be said to him, ok?"
"It's something that we do together, and he's always enjoyed, you know what I mean? For him to come home upset about it just made me kind of sad, you know?"
"So before anyone tries to cancel his school; we have to remember that different cultures have different gender norms," Shearhod wrote in the post's caption. "His teachers love him and are really so good to him! As a teacher myself I know his teacher probably thought she was helping him and I highly doubt there was any malicious intent. We're all on the same page now, thank y'all for all the supportive comments."
In two subsequent posts, Shearhod addressed comments questioning his three-year-old's gender and sexuality. "My son is literally three years old!" he says in one. "He can't be gay, because he doesn't have a sexuality yet, and I'm not gonna assign him and you're not gonna assign him a sexuality because he likes feminine things, things outside of his typical gender norm."
@mr.shearhod Replying to @mikek755 Umm he is a boy (and he'll tell you himself). He just likes the color pink and painting his nails? I don't think it should be read into too much, especially because he is really young. I just believe in fostering his interests to the fullest, because life is meant to be explored and enjoyed (and as you saw, painting his nails made him really happy). #Inverted ♬ original sound – Christian Shearhod
Earlier this week, Shearhod told NBC News that he doesn't want his son growing up with "strict gender norms."
"I really just wanted to make sure that he didn't have guilt or shame, because it is something that he enjoyed, and we had done together multiple times," he said, explaining that Ashton first expressed interest in painting his nails when he was two years old.
Shearhod, who identifies as straight, also discussed the transphobic comments he receives on social media for dating a transwoman. "I get stuff on my videos like, 'You're gay, you should go kill yourself.' Like, all that kind of stuff. I've never experienced that kind of hate."
Despite the occasional negativity, Shearhod says he wants to use his platform—he has over 900,000 followers on TikTok and nearly 20,000 on Instagram—to inspire his LGBTQ+ students to be themselves.