Heroic teen, 4 others rescue old man and his dog from Jeep, which had plunged into an icy lake: Video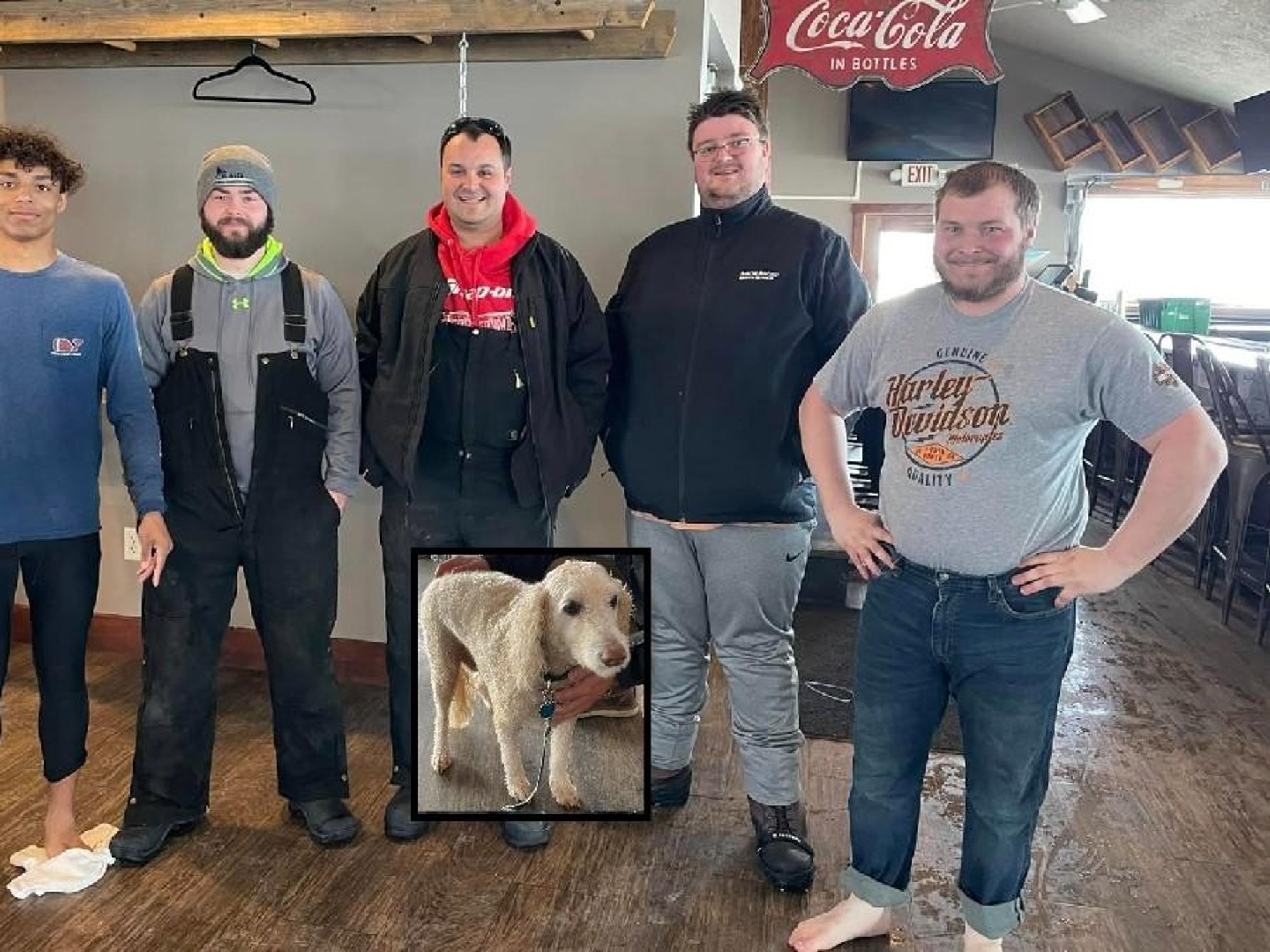 Four Iowa men and a teenager are being hailed as heroes after they risked their safety to rescue an old man and a dog from a Jeep, which had plunged into an icy lake.
On Saturday afternoon, Joe Salmon, 17, was ice fishing with his mother on East Okoboji Lake in the northwestern corner of the state, not far from the Minnesota border. At around 3 p.m., Salmon spotted a Jeep drive onto the lake near the Hwy 71 bridge — and then soon afterward fall through the ice.
Behind the wheel of the Jeep was 83-year-old Thomas Lee, who had grabbed his gear and his 6-year-old dog named Cooper and headed out toward his son-in-law's fishing shack, ostensibly located somewhere on the frozen lake. Unfortunately, that part of the lake was not frozen enough to withstand the weight of the vehicle, and Lee and Cooper soon found themselves surrounded by frigid water.
Salmon immediately called 911 and rushed over to where the Jeep had sunk to help whoever might be trapped inside.
"I took one step and [the water] went to about my chest," Salmon later recalled.
Salmon said he then jumped on the bumper of the Jeep and began trying to open the windows, but they were all locked. He then decided to smash open the rear window, using a knife that someone else had handed him.
That's right, it turns out that Salmon wasn't the only person who had seen the crash and come to help. Cody Chester, 27; Kody Harrelson, 26; Corey McConnell, 30; and Chris Parks, 27, had all joined in the rescue effort. Once Salmon had successfully broken through the window, he managed to grab Cooper and toss him to safety.
Lee, however, remained stuck. His foot had been caught between the center console and the seat, but Salmon was able to pull the console up so that Lee could spring free. Lee became stuck inside the vehicle once more before Salmon guided him to solid ground, where the other men were waiting to help him.
A drone captured the entire rescue on film:
Lee was taken to Lakes Regional Healthcare as a precaution, but he and Cooper are said to be doing just fine. Salmon was treated for minor cuts sustained during the rescue but was soon afterward cleared to return to fishing.
But before he could do that, he and his fellow rescuers were taken to the Okoboji Store to dry off and to receive dry clothing. "I'm happy that [Lee] was OK, and the dog was OK," Salmon said. "It was just crazy at the time.
"I've never done anything like that," he added.
At some point during the rescue, Salmon — a high school junior who is also a member of his school's wrestling, football, and track teams — lost one of his shoes. But others have stepped up to help him in that regard as well. His track teammates issued a tweet, asking Nike to replace his shoes. Though Nike has not responded to the request, ESPN personality Marty Smith offered to send Salmon a new pair of shoes, as did Track Guy USA of Iowa.
Today one our athletes, Joe Salmon, lost his shoes selflessly assisting a man who's vehicle fell through the ice. Hey @nike, can you hook him up? Photo credit Tom Gustafson pic.twitter.com/N03p4Bq1R6

— BojiBoysTrack (@BojiBoysTrack) February 5, 2023
Deputies claimed that the Jeep was extracted from the water sometime on Sunday. The water is between three and four feet deep at the location where it went in.
https://www.theblaze.com/news/heroic-teen-4-others-rescue-old-man-and-his-dog-from-jeep-which-had-plunged-into-an-icy-lake-video