Catholic high school student arrested for trying to attend class after he was suspended for 'transphobia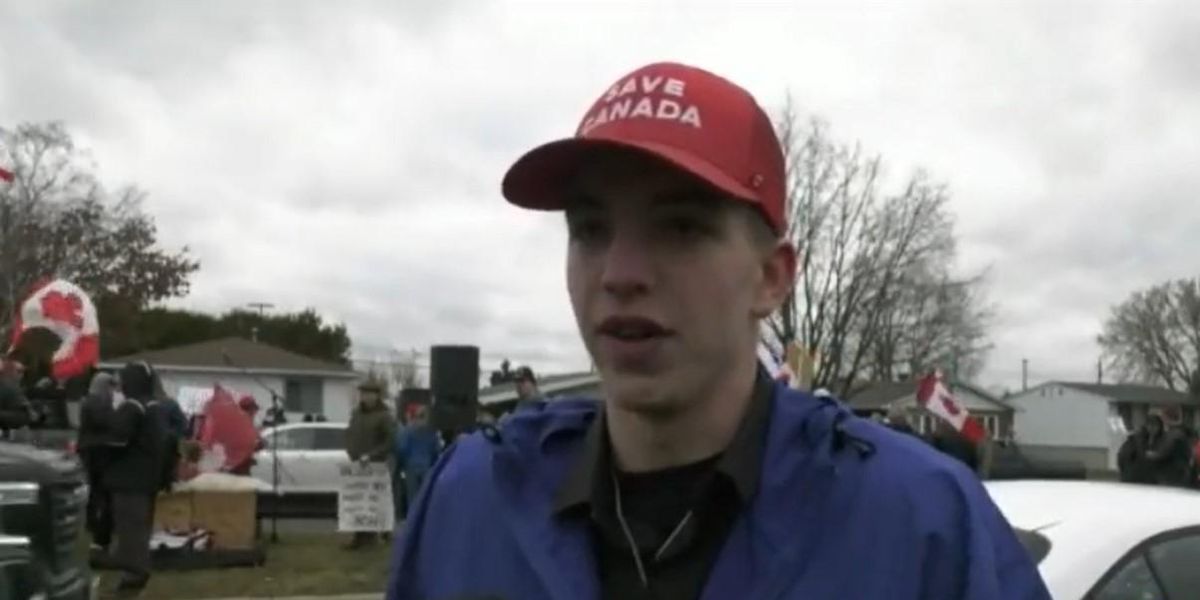 A teen in Canada who was recently suspended from the Catholic high school he attends because he spoke out against so-called transgenderism has now reportedly been arrested for trying to return to school.
Last November, 16-year-old Josh Alexander was suspended for one month from St. Joseph's Catholic High School in Renfrew, Ontario, about an hour west of Ottawa. Alexander claimed that he received the suspension after he stated openly in class that God created only two genders and he organized a protest against males using women's restrooms at the school.
The Renfrew County Catholic District School Board — a self-described "inclusive Catholic learning community" which oversees a number of local Catholic schools, including St. Joseph's — distanced itself from Alexander and all attempts to protest "transgender" students using the restrooms that accord with their so-called gender identities. "The Renfrew County Catholic District School Board strongly condemns transphobia and all forms of hate," a statement from the group read in part.
Alexander's suspension for that protest was supposed to end in January, but the Catholic school board decided to continue to "exclude" him for the remainder of the school year. An exclusion is similar to a suspension except it's issued for non-disciplinary reasons. Alexander, who calls himself a "born-again Christian," said he was told that his presence would be "detrimental to the physical and mental well-being" of supposedly transgender students.
Since Alexander is enrolled in a Catholic school, he is not allowed to find "an alternative route of education." So to continue learning, Alexander decided to return to the only school where he is legally enrolled: St. Joseph's.
On Monday, Alexander arrived on campus with the intention of attending class. However, he was prevented from entering the school when police placed him under arrest, reportedly on trespassing-related charges. He was placed in custody for a few hours and then released.
Alexander believes that the arrest is an example of religious discrimination. In a tweet, he stated that he was "being excluded for indicating my intent to adhere to my religious beliefs."
I have just been arrested and charged at my Catholic highschool for attending class after being excluded for indicating my intent to adhere to my religious beliefs. pic.twitter.com/vTkaSoTnFp

— Josh Alexander (@officialJosh_A) February 6, 2023
"Offense is obviously defined by the offended," Alexander stated after he was initially suspended. "I expressed my religious beliefs in class and it spiraled out of control. Not everybody's going to like that. That doesn't make me a bully. It doesn't mean I'm harassing anybody. They express their beliefs and I express mine. Mine obviously don't fit the narrative."
James Kitchen, Alexander's lawyer and the chief litigator for Liberty Coalition Canada, claimed that Alexander's arrest at school was "not entirely unexpected."
"Unfortunately, it takes this sort of drastic confrontation for people to just realize the insanity [of the situation]," Kitchen added.
Though officials at St. Joseph's reportedly told Alexander that his actions "may have violated the Safe Schools policy," designed to foster a safe learning environment, the school likely violated the tenets of its faith by accommodating claims of transgenderism.
"Everyone, man and woman, should acknowledge and accept his sexual identity," the Catechism of the Catholic Church states unequivocally. "Physical, moral, and spiritual difference and complementarity are oriented toward the goods of marriage and the flourishing of family life. The harmony of the couple and of society depends in part on the way in which the complementarity, needs, and mutual support between the sexes are lived out."
Alexander has previously stated that he intends to file a complaint with a human rights tribunal, but that process has been delayed since he has also filed a petition to become independent from his parents to shield them from the legal forces bearing down on him. Alexander ruffled many feathers in 2022 when he organized a school walk-out to show support for the Canadian trucker convoy, which was protesting government lockdowns.
Fox News reported that the principal of St. Joseph's would not speak about Alexander's situation because Canadian law forbids him to discuss an ongoing case.
https://www.theblaze.com/news/catholic-high-school-student-arrested-for-trying-to-attend-class-after-he-was-suspended-for-transphobia-report