What is Winnie the Pooh Pathology Test? Here's how you can take the viral personality test that links mental illness to cartoon characters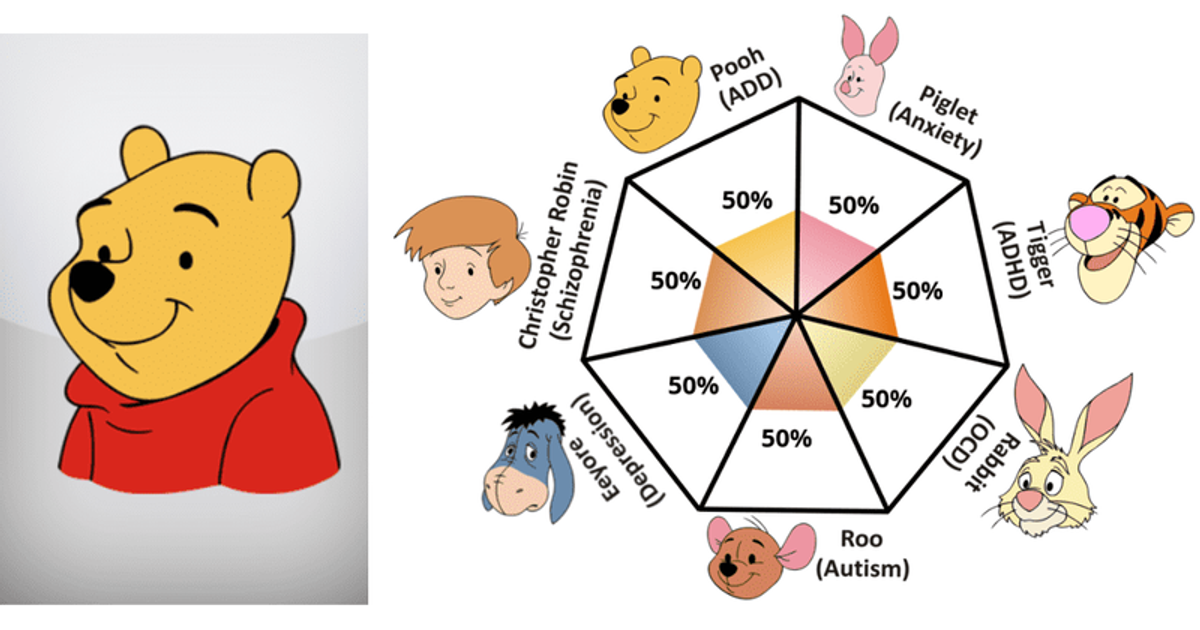 TikTok is known to come up with a new trend every now and then. Now, a new quiz called the 'Pooh Pathology Test' is going viral on social media. The test claimed that it can determine the mental health disorder a person is suffering from based on the character from the classic cartoon franchise, 'Winnie the Pooh', they resemble the most. The quiz has taken over the internet and users have been posting the results on social media platforms.
'Winnie the Pooh' or Pooh bear is a popular cartoon character created by English author AA Milne and illustrator EH Shepard. In 1961, Walt Disney Productions licensed certain film and other rights of 'Winnie the Pooh'. Other popular characters from the franchise include Piglet, Tigger, Rabbit, Eeyore and more. Now, IDR Labs, a company that provides individual personality assessment tests has created a quiz surrounding these characters, which claimed to determine mental health disorders.
What is the Pooh Pathology Test?
'Pooh Pathology Test' is a quiz which claimed that every 'Winnie the Pooh' character can be associated with a mental health condition. The website of IDR Labs, the company that offers this test, stated, "Professors Dr. Sarah E. Shea (M.D.), Dr. Kevin Gordon (M.D.) and associates studied the characters of Winnie the Pooh and concluded that each of them could be linked to a definite psychiatric diagnosis." The quiz asks participants to answer 33 questions, to see which of the seven characters they resemble the most.
Each character is associated with a mental health condition, Pooh, the titular character is associated with ADD, Piglet with anxiety, Tigger with ADHD. Rabbit is associated with OCD, Roo with autism, Eeyore with depression and Christopher Robin with Schizophrenia. The test, which is free, claimed to be unique as it pairs the insights of professors and MDs with the characters known from the Hundred Acre Wood. The test scores are entered in an anonymized database and a statistical analysis of the test is conducted to ensure maximum accuracy and validity of the test scores.
The test which asks the users to respond on a seven-point scale from "agree" to "disagree", includes questions such as, "When I feel overwhelmed by my senses, I have to isolate myself to shut them down," "If a good thing comes my way, I don't feel happy about it. I don't feel I deserve to be happy," and "My thoughts jump from topic to topic with little consistency or control." However, IDR labs does note that such tests were "merely indicators to help you find your personal outlook on the relevant indices measured," and that the results of Winnie the Pooh test "should not be construed as providing professional or certified advice of any kind."
This test has now gone viral on social media, especially TikTok, with users hailing its accuracy. Several users took to Twitter and shared the results of the test. "Nothing like taking a Winnie the Pooh pathology test to find out m I'm autistic," wrote a user. Another user wrote, "Took a winnie the pooh pathology test to see what character i related to the most & my result was who i thought it was going to be which is probably why piglet was always my favorite."
Nothing like taking a Winnie the Pooh pathology test to find out m I'm autistic pic.twitter.com/VWLpC93BHM

— Bedits (@RyanBEdits) January 28, 2023
Sharing their results, another user wrote, "Took the Winnie the Pooh pathology test, I got Pooh mostly with a little Piglet and Tigger I can definitely see ADD in myself and I never thought about it that way!" One user was not too happy with the results and wrote, "I dislike the pooh pathology test. I'd like to think it's overexaggerating."
https://meaww.com/what-is-the-winnie-the-pooh-pathology-test-viral-social-media-trend-explained