New top Russian general obsesses over troop appearance in Ukraine while army suffers heavy losses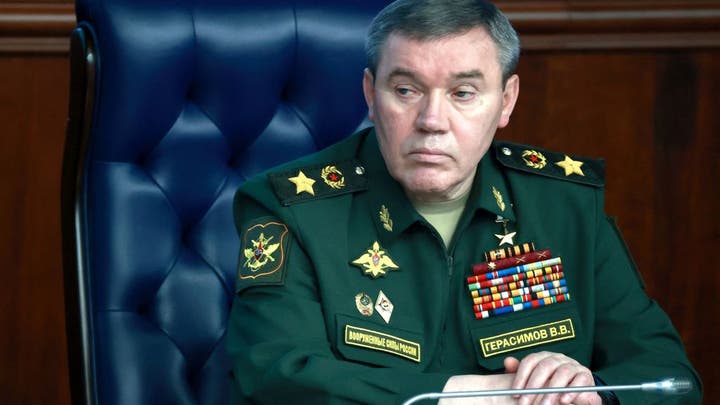 By Peter Aitken
A newly-appointed top Russian general is looking to clean up troop culture with a raft of new rules, but the rules have only helped to unsettle the troops, according to British intelligence.
Gen. Valery Gerasimov took over on Jan. 11 as the chief of general staff – Russia's top military officer – replacing Sergei Surovikin, who had only taken the role in October 2022. The Kremlin reshuffled its command in an effort to tidy up the command structure, and Gerasimov similarly wanted to clean up troop discipline.
The British Ministry of Defense in a Monday intelligence update revealed that Gerasimov has cracked down on behaviors, including the use of mobile phones, shaving, "non-standard haircuts," non-regulation uniforms and travel in civilian vehicles.
"Gerasimov is clearly out of touch with reality," Rebekah Koffler, president of Doctrine & Strategy Consulting and a former DIA intelligence officer, told Fox News Digital. "The reason the Russian troops use civilian vehicles in combat zone is because of the shortages of proper transport options for troops."
The measures have not sat well with troops, and feedback has been "skeptical," according to the ministry.
"Some of the greatest derision has been reserved for attempts to improve the standard of troops' shaving," the report noted. "Officials in the Donetsk People's Republic described the prioritization as a 'farce' that would 'hamper the process of destroying the enemy.'"
Most notably, the Wagner Group owner Yevgeny Prigozhin criticized military leadership over the choices, saying that "war is the time of the active and courageous, and not the clean-shaven."
The Wagner Group has grown into a counter-balance to the Russian military over the past few years, with a sharp increase in prominence and influence during the Ukraine conflict as Russian President Vladimir Putin increasingly relies on the group and its recruitment to keep his forces robust while taking otherwise catastrophic losses.
The Pentagon last week estimated that Russia could have lost upwards of 100,000 troops since the start of the conflict almost one year ago, at times saying Ukraine has likely lost a similar number, though it wouldn't speculate directly, The New York Post reported.
The British intelligence report concluded that the focus on "largely minor regulations" is likely to "confirm the fears of his many skeptics in Russia" that he is "increasingly seen as out of touch and focused on presentation over substance" while the military continues to suffer heavy casualties and operational gridlock.
"It's likely that there aren't even enough razors and other personal hygiene items either," Koffler said. "We are talking about Russia here: Not much has changed since the Soviet days when we had shortages of toilet paper and toothpaste, even for civilians."
"Gerasimov is putting the troops in untenable position by demanding these changes," she added. "They will be demoralized even more."
https://www.foxnews.com/world/russian-general-obsesses-troop-appearance-ukraine-army-suffers-heavy-losses