Illegal immigrant accused of trapping 6 people inside a trailer and trying to burn them alive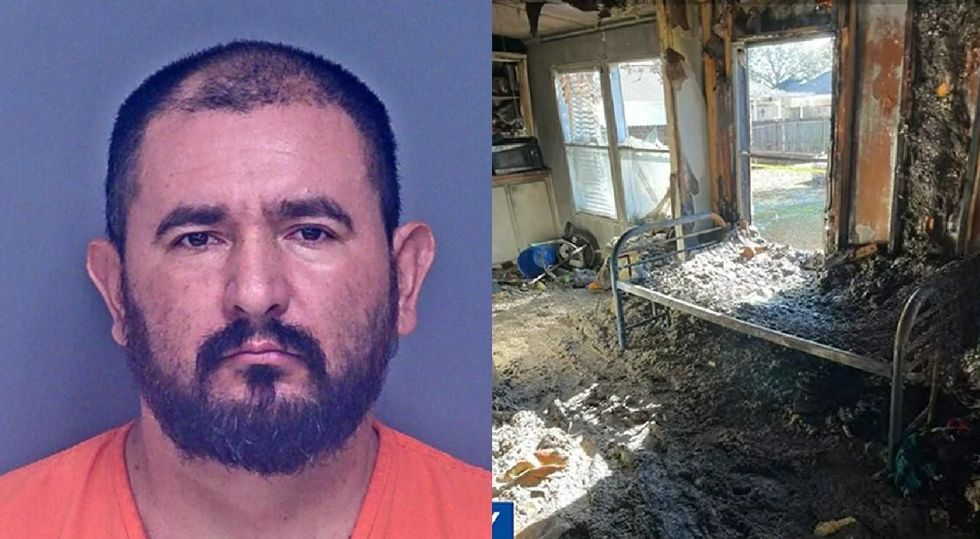 An illegal immigrant from Honduras, who has already been deported from the U.S. once, is in custody once again, this time under suspicion that he trapped his roommates inside a residence and tried to burn them all alive.
On New Year's Day, police in Robertsdale, Alabama, about 25 miles from the Gulf Coast, responded to a 911 call made from a local trailer park. When they arrived at the appropriate residence, they say they found Marlon Pineda-Enamorado, 38, standing outside with a gas can in his hand and holding the trailer door shut.
Moments later, one of the windows broke open from the inside, and smoke began pouring out of the mobile home. Two people then scrambled to escape, and police immediately began offering assistance.
It is fortunate that the police were there. After breaking into the home, they discovered a 73-year-old man collapsed near the door. He was taken to the hospital and treated for smoke inhalation. In all, six people, the youngest of whom is just 16 years old, had to be rescued from the burning building.
Investigators believe that Pineda-Enamorado, who also lives at the residence, became upset after his fellow roommates decided to kick him out.
"What we've found so far, it appears that the suspect and the other roommates, they were not coexisting peacefully," said Lt. Paul Overstreet.
When the six roommates confronted Pineda-Enamorado the night before and told him he had to be out of the trailer by January 2, he allegedly went into a rage, consuming significant amounts of alcohol and wielding a machete.
"Talking to himself in Spanish and stuff, and we got warned, shut our … lock our doors," recalled next-door neighbor Todd Bowen. "My mother-in-law and my sister-in-law were outside, and they seen him."
The following day, which happened to be New Year's Day, the suspect's bizarre behavior continued. He reportedly dumped gasoline on several mattresses, set them on fire, exited the residence, and then tied a bungee cord around the door handle so that his roommates could not escape. One of the roommates then called 911 from inside the mobile home.
Pineda-Enamorado, who was deported back to his native Honduras in 2012, has been charged with first-degree arson and may soon be charged with six counts of attempted murder. He is being held in the Baldwin County Jail without bond, and he has been placed on an immigration hold while ICE continues to investigate his case. WALA has reported that, through an interpreter, Pineda-Enamorado has confessed to an ICE agent that he did commit the arson.
"He was angry at his situation in life," Overstreet asserted. "He was angry at his roommates. Apparently, they had had some disagreements that still bothered him, and he stated that he had been up drinking all night and had just become overcome with anger."
https://www.theblaze.com/news/illegal-immigrant-accused-of-trapping-6-people-inside-a-trailer-and-trying-to-burn-them-alive
About Post Author