4 arrested for allegedly terrorizing elderly woman while wearing clown masks to rob her, police say one suspect had worked as her caretaker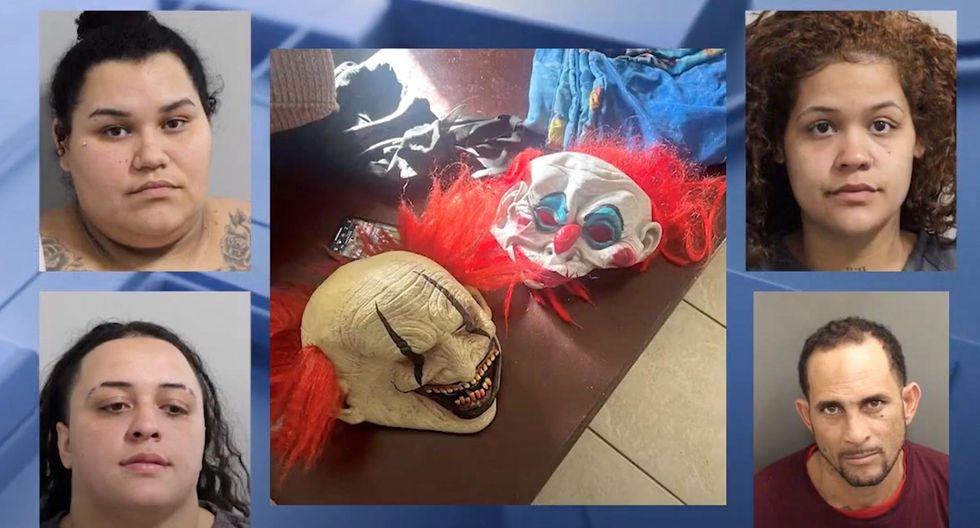 Four people were arrested for allegedly wearing clown masks to terrorize and rob an elderly Florida woman, and police said one of the suspects had worked as a caretaker for her late husband.
The despicable incident unfolded in East Orange County in December.
Police said that the four people used clown masks to disguise themselves, and they used a sledgehammer to break down the woman's door. She told police she was awakened by the sound of her door being broken down.
One of the assailants used the sledgehammer to try to break into the woman's safe but was unsuccessful. They instead took the safe and left the house.
The woman told police that the robbers had gotten away with more than $40,000 worth of family heirlooms and jewelry in the safe.
Investigators suspected 23-year-old Melissa Martinez might be involved in the robbery when the victim's daughter told them that Martinez had the only key to the home after she had worked as a caretaker for the victim's husband, who had died.
Detectives then ran a pawn search on Martinez and found that she had pawned numerous items of jewelry on Dec. 1, including a 14k gold ring with three diamonds on it and a 14k gold cross pendant. Martinez had provided the pawn shop a phone number that matched the one provided to them by the victim's daughter.
Investigators also said that they were able to locate her phone at the scene of the home invasion before, during, and after the robbery.
Orange County deputies arrested Martinez along with 26-year-old Shakira Rivera Colon, 24-year-old Jaydie Cintron-Mayoral, and 42-year-old Nelson Cruz-Medina. They were charged with grand theft and home invasion robbery.
Here's a local news report about the incident: