Eight Years After Problem Spotted, Veterans Affairs Continues to Overpay on Post-9/11 GI Bill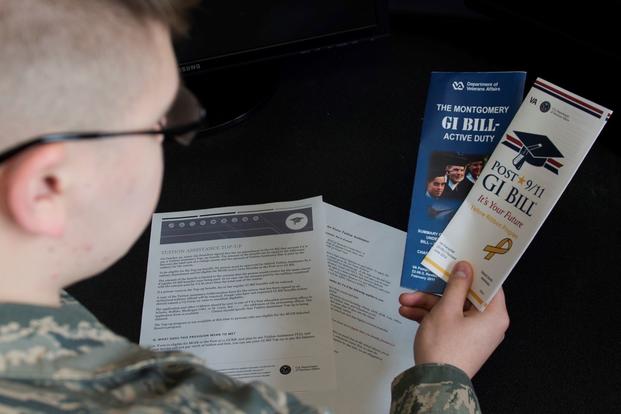 By Paul Bibeau
A flaw in a program to pay for veterans' books while they attend college still hasn't been fixed eight years after a government audit warned it could waste millions of dollars.
The Post-9/11 GI Bill program has provided more than $12 billion to nearly 800,000 students, one of the key benefits for service members that helps attract recruits to the all-volunteer force. But mistakes and delays have plagued the program, with students waiting protracted periods to receive funds and money often being misallocated or misspent.
After a review by the VA Office of Inspector General, the agency made several improvements, but never fixed a flaw in its automated system. The VA's inability to make changes reveals challenges it faces providing massively expanded services with systems that don't function well together.
The OIG's 2014 report on the VA's program found almost half the students experienced significant delays getting benefits, or received money they weren't eligible for. Another report, from the U.S. Government Accountability Office, found the program overpaid students $416 million in 2014 alone.
The VA recouped more than half the overpayments flagged by the GAO and improved response times. It also fixed all problems identified by the OIG but one: a defect in an automated system that overpaid money for books.
The OIG predicted the problem could cost the government up to $35 million between 2014 and 2019. According to a spokesperson for the OIG, the VA hasn't met the requirements for the OIG to close the matter after eight years. The OIG didn't have an estimate of how much the problem would continue to cost in the years after 2019.
In an email to Military.com, the VA said the agency couldn't change its system without a "protracted" process that "requires careful evaluation and vetting through multiple levels of the Executive branch."
The agency's own yearly financial reports describe a wider problem.
"VA's legacy financial management system architecture is complex and disjointed," a 2021 report read. "[M]any of VA's legacy systems have been obsolete for several years." A 2019 VA report says the system has "continued to deteriorate."
"Good golly, I thought they were fixing this," said Deborah Collier of Citizens Against Government Waste, an advocacy group. Collier was the Republican legislative director for the Veterans' Affairs' committee in the U.S. House of Representatives. She said the VA has been dysfunctional for a long time.
"Hundreds of millions have been spent trying to fix this system," she said, adding Congress needs to confront VA leadership.
Linda Bilmes, a Harvard University professor who's studied the agency, said in spite of its flaws, the VA's program is one of its "great successes," because it delivered benefits to many in a relatively short time.
Students who use the program, like Nathaniel Hayes, describe it as an important tool to help them build a career. Hayes himself is an E-4 in the U.S. Army National Guard studying music at Western Michigan University. He plans to stay in the service and hopes someday to be a bandmaster in a regional military band.
"I think the military offers some of the steadiest and some of the most fun employment when it comes to music here in the United States," he said.
Bilmes authored a 2021 study that showed how the VA is in some way a victim of its own success, struggling to meet an explosion of benefits, which doubled as a percentage of the U.S. budget from 2.4% in FY 2001 to 4.9% in FY 2020. The study said the VA's budget almost quadrupled during this period, from $61 billion to $240 billion, and its workforce increased from 219,000 to more than 400,000 employees.
"[B]ecause the systems have not been fixed and the department has grown so quickly a lot of Band-Aids have been put on," Bilmes said. She said even though the VA has challenges, it's received 20 consecutive clean audits from outside accounting firms, unlike the Pentagon itself, which repeatedly fails its audits.
When she was chief financial officer of the U.S. Department of Commerce during the Clinton administration, Bilmes said she was part of the effort to fix that department's financial management system. She said it required years of effort from department leadership to make progress. The VA has additional challenges, she added, because it had a practice of reviewing every case individually.
"You don't see the IRS auditing every single taxpayer's audit," she said. "And we don't inspect every suitcase that comes in this country." Bilmes said the VA's expansion of using presumptive conditions was a welcome development.
Sen. Tim Kaine (D-Va.), who serves on the U.S. Senate Armed Services Committee, said it was important to keep the pressure on the VA's leadership.
"We've got to lean on the VA Administrator, Denis McDonough, who is very, very good to just every day make improvements in this," he said at a press event in Norfolk, Virginia. He added the problem could damage the VA's ability to provide benefits beyond the GI Bill. Kaine said he was concerned delays in paying private doctors, for example, could drive them away from treating veterans.
As he studies music at Western Michigan, Hayes said the program is working for him. His benefits have come regularly, with minor delays, and the payments are accurate.
"I don't really feel like I need to worry about, like, having the pocket money and having money for school," he said. "I've got it. Those are … huge plusses for me."
https://www.military.com/daily-news/2022/12/24/eight-years-after-problem-spotted-veterans-affairs-continues-overpay-post-9-11-gi-bill.html
About Post Author