'World's loneliest gorilla' to spend another Christmas in pitiful cage after languishing in zoo for 30 yrs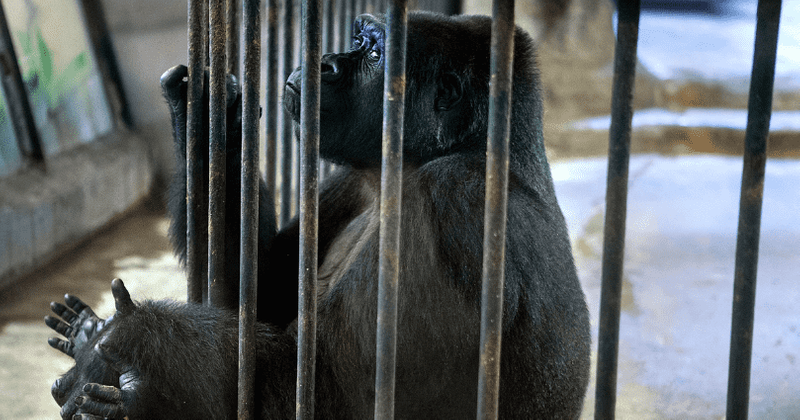 BANGKOK, THAILAND: The "loneliest gorilla in the world" will spend another Christmas in a cage inside a grocery store. The 33-year-old gorilla has spent more than 30 years in captivity at the Pata Zoo located in the 6th and 7th floor of the Pata Pinklao Department Store in Bangkok.
Despite global efforts to free Bua Noi, the only gorilla in the nation, the authorities do not appear to have taken any action to assist it. In October, the animal's owner stated that he would only release the primate if he received up to $850,000. Since 2015, the keeper has been encouraged to release her so that she might died peacefully in the company of other gorillas by the Thai government, PETA, pop artist Cher and other high profile celebrities, as per The Daily Mail.
Jason Baker, PETA Asia's senior vice-president, reportedly said, "Bua Noi the gorilla is suffering from extreme psychological distress in the concrete enclosure to which she has been confined alone for nearly 40 years, longer than most Thai people have been alive. This shabby facility is internationally condemned as one of the worst zoos in the world. All the animals held captive there are confined to pitifully small, barren enclosures and denied sunshine, fresh air, and opportunities to exercise or engage in behaviour that's meaningful to them."
Environment Minister Varawut Silpa-archa reportedly believed that Bua Noi should be relocated to a sanctuary, The Daily Mail reported. However, his secretary reportedly said, "We collected donations from Bua Noi's supporters. But the problem is that the owner refuses to sell Bua Noi. When he does agree to sell her, the price is too high. Bua Noi is considered private property so we cannot do anything to remove her. The owner bought Bua Noi before laws were introduced to prevent the trade and ownership of endangered animals and wild animals."
Bua Noi, whose name translates to "Little Lotus," was purchased by her owner for 3 million baht from Germany at the age of one and transported to the Pata Zoo. The veterinarians and other creatures including orangutans, parrots, langurs, flamingos and sheep are now the only companions that Noi has left as she lost her mate more than 10 years ago. She is not the only animal in the zoo but the gorilla may be the saddest. She gazes out from her enclosure behind a plastic screen that divides her from the tourists, and some onlookers have even seen tears in her eyes, according to The Sun.
THE "world's loneliest gorilla", who has been tragically held in a tiny concrete cage for most of her life, is set to spend another Christmas in "one of the saddest places in the world".
Bua Noi has been trapped in her cage for over thirty years, afterhttps://t.co/dRkLu9GizM pic.twitter.com/yRI3p9vGXl

— sufi worker (@SufiWorker) December 23, 2022
Animal rights organizations submitted a petition in 2015 asking for her freedom and the closure of the zoo, drawing attention to her situation. Petition organiser Sinjira Apaitan said at the time, "I don't think animals should be locked up in such unnatural habitats. I hope to help all other animals being held captive in this high-rise zoo as well."
Zoo director Kanit Sermsirimongkol said that Bua Noi's sad look was her "natural facial expression". He added, "Before opening, we consulted zoologists and veterinarians and only selected animals that were suitable for the zoo. And they have been treated well. The criticism doesn't concern me because we know her best. Those people saw the picture of her on the internet and assume she's depressed. But that's how she looks just like humans – some have a sad face and some have a happy face. We have been taking care of Bua Noi like our own daughter. I know that we will have to find her a suitable new home one day but it's not a good idea to immediately release her back into the wild without teaching her how to survive on her own."
https://meaww.com/bua-noi-worlds-loneliest-gorilla-spend-another-christmas-dirty-cage-30-years-captivity-thailand-zoo