'Can't trust that site anymore'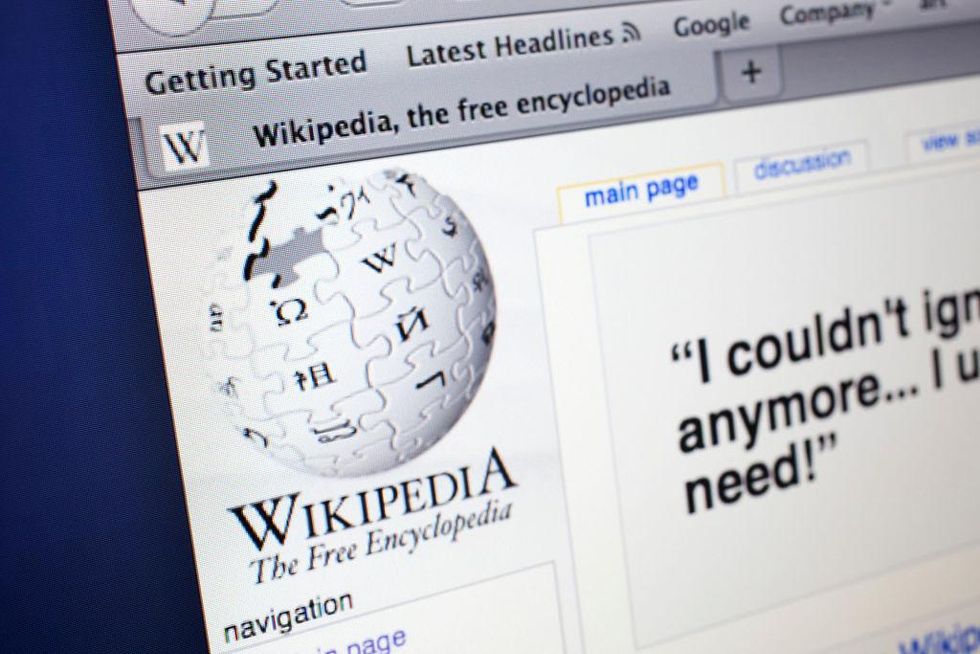 Wikipedia was absolutely lampooned for labeling the brief Twitter suspension of a handful of journalists and commentators as the "Thursday Night Massacre."
On Thursday evening, Twitter suspended the accounts of CNN's Donie O'Sullivan, the New York Times' Ryan Mac, the Washington Post's Drew Harwell, leftwing journalist Aaron Rupar, and liberal commentator Keith Olbermann.
The social media users allegedly violated Twitter's terms of service against doxxing the real-time location of individuals.
Musk proclaimed, "They posted my exact real-time location, basically assassination coordinates, in (obvious) direct violation of Twitter terms of service. Criticizing me all day long is totally fine, but doxxing my real-time location and endangering my family is not."
However, Musk reinstated the suspended accounts at 12:18 a.m. on Saturday.
Leftwing pundits and liberal media outlets suffered a complete meltdown over the short suspension.
Axios described the suspensions as "unprecedented," and said it was a "media flashpoint."
A United Nations spokesperson was "very disturbed," and claimed the temporary bans were a "dangerous precedent."
Vera Jourova, the European Commission's vice president for values and transparency, threatened sanctions.
CNN threatened to "revaluate" its relationship with Twitter.
The Duty to Warn Twitter account – a self-proclaimed "association of mental health professionals warning NOW about TrumpISM" – compared the suspension to the notorious 1938 Nazi attack on Jews known as Kristallnacht.
This account is run by an "association of mental health proffesionals." They're comparing democrat activists getting temporarily suspended for doxxing, to Kristallnacht. Unreal pic.twitter.com/5xud3gQI6j

— Libs of TikTok (@libsoftiktok) December 16, 2022
Wikipedia reacted to the news of the suspended journalists by launching a page titled: "Thursday Night Massacre (Twitter)."
The online encyclopedia dedicated two different pages and 2,800 words to the suspension that lasted less than 48 hours.
"The phrase 'Thursday Night Massacre' was a trending topic on Twitter following the suspensions; news site Mediaite also used the phrase in a headline describing the suspension and subsequent fallout, and it has since become a common term for representing the incident," the Wikipedia entry reads.
Wikipedia is just a far-left blog pic.twitter.com/5VZQq0IRcd

— New Pillows New Slippers (@JackPosobiec) December 17, 2022
Twitter reactions lampooned Wikipedia for the overly dramatic categorization of the brief Twitter suspensions.
Tesla CEO Elon Musk: "A two day suspension of maybe 7 accounts for doxxing got an actual Wikipedia page!? Wikipedia is controlled by the MSM journalists. Can't trust that site anymore."
Commentator Jack Posobiec: "Wikipedia is just a far-left blog."
TPUSA founder Charlie Kirk: "Wikipedia editors have taken a one-day tiff over Twitter doxing policies and made it an article twice as long as the Declaration of Independence."
Anarchist Michael Malice made a comparison to the George Floyd protests: "Wikipedia: 7 accounts getting suspended – 'massacre," 14,000 arrests, 19 dead, biggest national guard deployment ever – 'protests.'"
Last year, Wikipedia's cofounder Larry Sanger warned that the internet encyclopedia has a major bias issue and spews propaganda.
"Because there is a lot of influence, Wikipedia is known now by everyone to have a lot of influence in the world," Sanger said. "If only one version of the facts is allowed then that gives a huge incentive to wealthy and powerful people to seize control of things like Wikipedia in order to shore up their power. And they do that."
https://www.theblaze.com/news/wikipedia-twitter-journalists-massacre