Whitlock: Russia uses Brittney Griner to fleece President Biden in the 'Bay of BiG'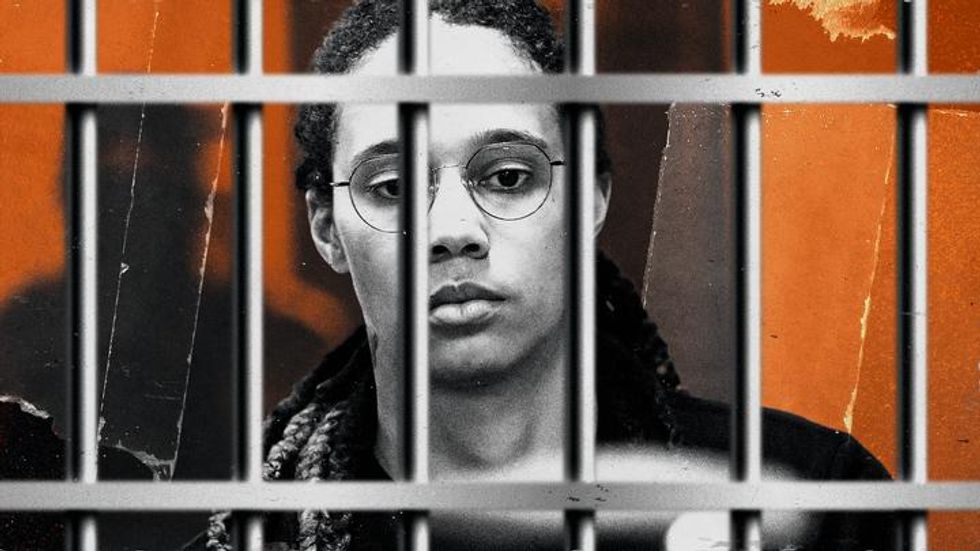 The Bay of BiG proves that critical race theory and diversity, inclusion, and equity harm America and its citizens.
The Bay of BiG is my nickname for the lopsided trade the Biden administration executed for the release of WNBA player Brittney "Incarcerated" Griner. Griner was held for nine months in Russia and sentenced to nine years in a Russian prison for smuggling a small amount of hashish oil. President Biden surrendered notorious Russian arms dealer Viktor Bout for Griner's freedom.
An American jury convicted Bout, called the Merchant of Death, of conspiring to kill American citizens and providing aid to terrorist organizations. He spent a decade locked inside a U.S. penitentiary before being sprung on Thursday in exchange for Griner.
The Merchant of Death for a WNBA player might be the worst trade in the history of American sports. It certainly rivals the incredible bounty of draft picks the Vikings gave the Cowboys for Herschel Walker and the $125,000 the Yankees gave the Red Sox for Babe Ruth.
Let's dig a little deeper and turn a bit more serious.
In 2015, Griner pled guilty to domestic violence against her partner and WNBA peer Glory Johnson. In 2020, in reaction to the death of St. George Floyd, Griner pledged never again to stand for the national anthem and said the song had no place in American sports.
Griner is not an American patriot. She's an entitled, spoiled athlete who is comfortable flouting the law.
So why did her release from a Russian prison take precedence over the release of former U.S. Marine Paul Whelan? Or teacher Marc Fogel? Russia accuses Whelan of being a spy. Fogel received a 14-year sentence in Russia for bringing a half-ounce of medical marijuana into the country. Fogel, who is 60 years old, was arrested in 2021.
Griner jumped to the head of the line because the Biden administration and corporate media are driven by critical race theory and diversity, inclusion, and equity.
CRT and DIE dictated that Biden go to unreasonable and dangerous lengths to win the release of Griner. She's black and gay. She's no more valuable to American freedom and safety than Whelan or Fogel, who are white men. Whelan and Fogel – a Marine and a teacher – actually contribute more to American society than a weed-smoking basketball player who promotes anti-American sentiment.
Whelan and Fogel should be the priority.
But absolutely no one cares about Fogel. He can rot in a Russian prison for the next 13 years, and it will draw little attention or sympathy.
The Griner trade will force the Biden administration to cut an even worse trade for Whelan. The wheels are in motion for that as you read this. Brittney Griner's "wife" talked about supporting Whelan. Leftists are publicly feigning support for Whelan now that Griner is released.
Dallas Cowboys linebacker Micah Parsons, arguably the best player in football, tweeted sincere outrage over Whelan not being part of the Griner deal. His handlers quickly made him backtrack and apologize.
"Just spoke to some people that I respect and trust," Parsons tweeted. "I should have been more educated on the topic and not tweeted out of emotion for my family and others who have served. For that I apologize. Also, if what I'm told about the attempts to bring Ret Marine Paul Whelan home are true then the best outcome was accomplished. I pray Mr. Whelan comes home but am extremely happy for Brittney and her family. I am not too prideful to admit when I've made a mistake."
This is the LGBTQ-BLM Alphabet Mafia flexing its political might.
Are Americans stronger and safer when our leaders make decisions based on sexuality and skin color? No. We're weaker. Russian leader Vladimir Putin used our commitment to racial and sexual idolatry to fleece us in a trade. There are rumors that Putin targeted Griner for arrest because he recognized the Biden administration would be forced to bow to pressure from the Alphabet Mafia.
On Thursday, Biden warned American citizens traveling abroad to take extra precaution to follow all laws of foreign countries. He knows the Bay of BiG has made all Americans more vulnerable.
Simple-minded race idolators will not recognize the damage done by the Bay of BiG. The damage doesn't matter to them. They only care about racial retribution. Whelan and Fogel are so-called privileged white men.
Brittney Griner is allegedly owed this privilege. It's payback for George Floyd, Ahmaud Arbery, Breonna Taylor, or some other dead black person the Alphabet Mafia has adopted for political power.
CRT and DIE have weakened our educational system, our work environments, movies, and television. We should not be surprised that foreign policy is next on the hit list.
https://www.theblaze.com/fearless/oped/whitlock-russia-uses-brittney-griner-to-fleece-president-biden-in-the-bay-of-big