Man Builds Fake Fireplace From Scratch So Wife Can Hang Christmas Stockings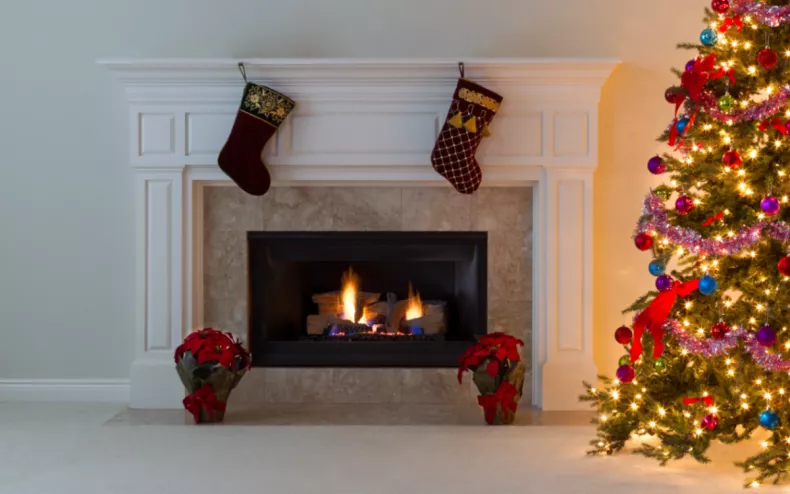 Ahusband is being praised online for pulling out all the stops to ensure that his wife enjoys a Christmas to remember in 2022.
Teacher Jacqueline Dunn took to TikTok to share a clip showing how her husband, Trent, set about building a fake fireplace from scratch.
According to the video, the project came about after a throwaway remark from Dunn, who told her husband: "I love our new house, but we don't have anywhere to hang our stockings… I wish we did."
Trent pledged to "fix that," and the footage shared by Dunn under the handle jackie_k_dunn shows that he has been true to his word.
Trent's efforts will likely mean the Dunns exceed that level of expenditure in 2022, but both would probably say it has been money well spent, given the results.
Dunn's video shows the painstaking work that went into making her dream a reality: from getting the timber and fire-effect screen in place to painting the whole thing twice to give it that extra look of authenticity.
Trent demonstrates a professional level of handyman skills in the clip, which begins with him marking out all the measurements for the faux-fireplace in the company of the couple's dog.
The next step sees the timber put in place as the fireplace begins to take shape, hand-painted by Trent himself.
The finishing touches come courtesy of a mirror and wood-effect mantelpiece, with the video ending on a shot of Trent hanging up a set of stockings up in front of the "fire."
His smiling expression is that of a man happy with a job well done, and he's not alone in showing satisfaction at his work.
TikTok user Megan Woofter wrote: "I feel like he has no idea how attractive this is."
Dani_McMahon also heaped praise on Trent's efforts, asking: "Where do I get one of these men that just do things??" And Sashaesloan added: "On a biological level this is the singular most attractive thing a male can do."
Others, meanwhile, lamented the fact they were unable to get their partners to do anything around the house, let alone build a fake fireplace.
"I can't even get my boyfriend to vacuum the house," TikToker taterballz wrote, with Neisha Gabrysiak posting: "I can't even get mine to get the decorations out of the attic for me."
Beelzebubstan had another problem, commenting: "My husband can build me a computer, but not a fireplace."
https://www.newsweek.com/dad-builds-fireplace-christmas-kids-stockings-tiktok-video-1764225