Little girl watches Texas drag show while parent is 'outside'; drag queen tells her, 'We got you, baby.' Venue scraps rest of year's drag shows over feeling 'unsafe.'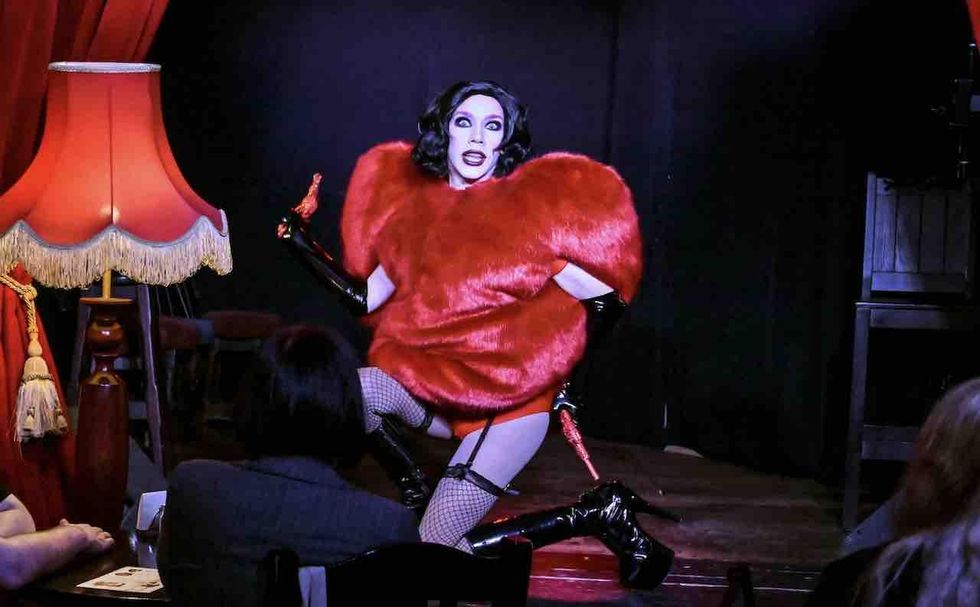 A Texas entertainment venue canceled its remaining 2022 drag shows, saying staff and "queens" feel "unsafe" following publication of a video showing one of its all-ages drag shows — and a little girl in the audience whose parent was "outside."
What are the details?
Independent journalist Tayler Hansen posted video of Friday night's "The Island of Misfit Toys Drive & Drag Show" at the Starlighter in San Antonio — an "all ages" shindig that also included a screening of the iconic "Rudolph the Red-Nosed Reindeer" stop-motion TV movie.
But what went down onstage likely wouldn't have met with the approval of "Rudolph" creators, as numerous drag queens are seen on the clip dancing suggestively in various stages of prosthetic-enhanced undress.
A little girl was in the audience, too — and it turns out that as a drag queen was engaging her from the microphone, the queen was informed that the girl's parent was "outside" the door of the venue.
"We got you, baby," the drag queen tells her, according to an audio-only portion of Hansen's clip.
What happened next?
After Hansen's post went live, the Starlighter on Sunday announced it was canceling its remaining drag shows for the year, saying staff and "queens" are feeling "unsafe."
"The Starlighter's goal has always been to provide a safe, all-ages space for entertainment & unfortunately we're now being made to feel unsafe in our own space," the venue's statement reads. "We're being bullied and threatened both online in comments, reviews, & tweets."
More from the statement:
For the safety of our queens, staff, & patrons, we're cancelling all of the drag events for the remainder of the year. This was a decision made between the queens & The Starlighter owners as a safety measure & nothing more.

We stand by our queens & the sentiment that there was nothing wrong done at this past Friday's toy drive. The child in question was never left unattended or in any danger. They are the child of our food vendor that night who was right outside the door. This vendor and their child are very familiar with both staff and queens, and even posted a picture thanking the queens for treating her like a 'niece' at the end of the event.

The story is being twisted into something disgusting to fit a political narrative. It's sad, frustrating, & disappointing.

Thank you to our community for your continued support. With all of the ugliness in the world right now, your support really means the world to us. We love and appreciate you all.
'Unsubstantiated claims'
A mysanantonio.com news story on the cancellation of the drag shows said Hansen's tweet is "pushing the ongoing unsubstantiated claims from far right groups that gay people are 'sexualizing children.'" The outlet's story also said the "Starlighter's claims of being made to feel unsafe come after a mass shooting in a gay club in Colorado during a drag show, killing five and wounding 17 other people in late November."
https://www.theblaze.com/news/little-girl-watches-texas-drag-show