Michigan police hand out turkeys for Thanksgiving to 'alleviate some financial strain' amid the holidays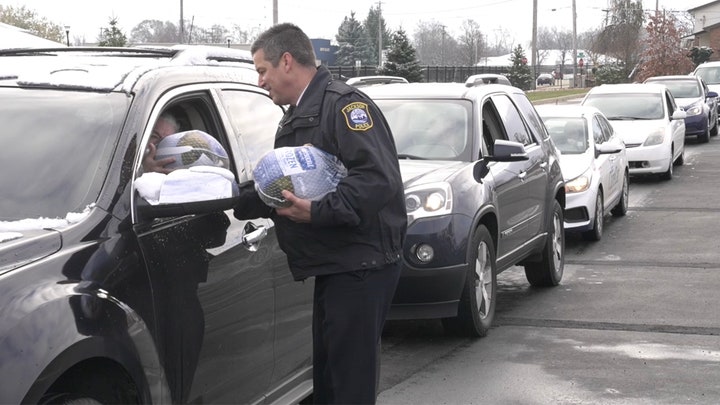 In honor of Thanksgiving 2022, law enforcement is helping residents complete their Thanksgiving dinner by handing out free turkeys.
With inflation impacting holiday feasts this year, officers at the Jackson Police Department in Michigan are doing what they can to help their community.
One hundred and fifty residents received Thanksgiving turkeys in the city's first ever turkey giveaway, Fox 47 WSYM reported.
They ran out in just under and hour.
"It's not just our community. It's all communities. We know the need is there and it's not a lot but we tried to do what we could," Jackson's Group Violence Intervention Coordinator Cheryl Ragland told Fox 47
Ragland continued, "150 turkeys went really fast but next [year] there will be more for sure."
This community outreach appeared to be meaningful to the families that were able to receive a turkey.
One recipient said she was grateful since she was caring for her family and parents this holiday season.
Jackson resident Jaime Key told Fox 47, "I'm really thankful that they're doing this."
Ragland told Fox 47 that this turkey giveaway aligns with the positive messaging for Jackson's Group Violence and Intervention program.
"With increasing food costs for families, we hope this will also alleviate some financial strain during the holiday season," Ragland told Fox 47.
About Post Author