Looming Railroad Strike Could Cripple U.S. Economy in 2 Weeks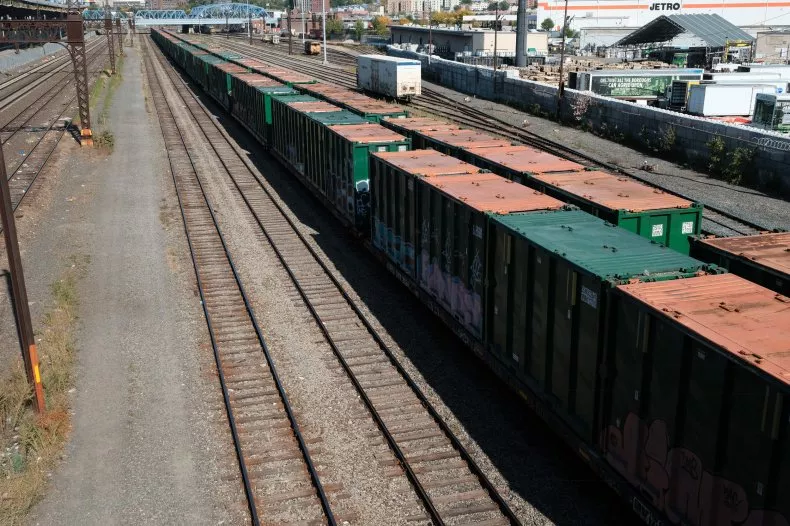 Amajor rail union rejected a deal brokered by the White House on Monday, paving the way for a potential strike that could have devastating effects on the U.S. economy.
The SMART Transportation Division, the largest rail union in the United States, announced that its members narrowly voted down the deal on Monday. The vote drew record high turnout among the union's 28,000 members, with 50.87 percent voting against ratifying the deal.
"SMART-TD members with their votes have spoken, it's now back to the bargaining table for our operating craft members," SMART-TD President Jeremy Ferguson said in a statement. "This can all be settled through negotiations and without a strike. A settlement would be in the best interests of the workers, the railroads, shippers and the American people."
But if negotiators cannot reach a deal within two weeks, SMART-TD workers would be able to launch a strike starting December 9. All of the 11 rail unions would need to ratify the deal to avoid a strike. So far, seven have voted in favor of the agreement.
In recent months, negotiators have worked to create an agreement to satisfy both parties, but such a deal has faced scrutiny, with some workers pushing for policies that would allow them more paid time off, including sick leave, in an industry that often demands long hours and time away from family.
Railroad workers play a pivotal role in the supply chain, so a massive strike would likely wreak havoc on the economy. These workers are responsible for transporting a wide array of goods—from nearly every economic sector—across the country.
A potential strike could trigger retail shortages ahead of the winter holidays, manufacturing shutdowns, job losses as well as disruptions to passenger services, according to a September report from the Association of American Railroads (AAR).
The report found that a rail strike could cost the U.S. economy up to $2 billion for every day workers aren't on the job.
https://www.newsweek.com/looming-railroad-strike-could-cripple-economy-2-weeks-1761119
About Post Author