Less 'Nog, More Turkeys: DoD's Thanksgiving Meal Market Proves Volatile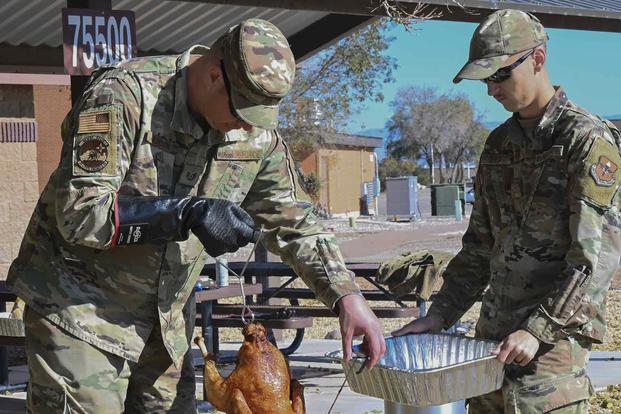 Last year, troops deployed around the world drank enough Thanksgiving eggnog that — if the holiday beverage were converted into fuel — it would fill up an entire Marine Corps tank company three times over.
This year, troops won't even have enough to top off a single tank platoon with eggnog, a blow perhaps equal to the fact that Marines don't have tanks anymore.
As the Global War on Terrorism quiets and the military focuses on near-peer threats in Eastern Europe and the South China Sea, the Defense Logistics Agency, or DLA, is dispatching the lightest shipment of several traditional Thanksgiving menu items the military has seen in five years, according to available agency data.
But thanks to the DLA and 9,155 whole turkeys, troops can still expect to eat plenty on Thanksgiving, wherever they are.
A Military.com analysis of the last five years of Thanksgiving food data showed precipitous drops in almost all of the primary food items the DLA ships to kitchens and galleys across the world, four of which are weighing in at the lowest poundage the military has seen since 2017. That said, the total food weight remained largely unchanged from last year, with whole turkey estimates making up over one-third of the entire haul.
The reduction of tertiary food items like sweet potatoes and shrimp is perhaps a symptom of shifting military priorities in key regions outlined in the Pentagon's 2022 National Defense strategy, with unit deployments and rotations changing (or reducing) from the Middle East to Eastern Europe and the reorganization of tactical units to meet critical needs in the Pacific theater.
Or maybe troops just want a lot of turkey this year. And less shrimp.
The DLA is shipping more than 219,000 pounds of roast turkey, beef, ham, shrimp, sweet potatoes, pie and cake to troops around the world, nearly 40% less than service members saw last year — the first time the DLA didn't haul any meals to Afghanistan.
Shipments of whole turkeys, the traditional centerpiece of many Thanksgiving meals, tallied in at 137,325 pounds, or a 60% increase from last year, making this year's total DLA shipment more than 375,000 pounds of holiday food.
Order forecasts from the individual services hit the DLA's inbox in March this year, giving ample time for the agency to wrangle vendors charged with compiling holiday meals.
"Over the next several months, we track delivery of products to the vendors' warehouses," Navy Capt. Tim Griffin, subsistence supply chain director, said in a press release emailed to Military.com. "We then take it a step further by tracking every single DoD order is placed and delivered just prior to Thanksgiving."
While many key Thanksgiving staples saw their smallest orders since 2017, desserts were up 25% from last year.
The logistics hub will dish out 41,745 pounds of roasted turkey this year, less than half as much as reported in 2017 and 30% less than last year.
The amount of beef set to be hauled around the world this year is down 60% from 2021, which saw nearly 100,000 pounds served to service members in the U.S. and deployed.
Overall, holiday beef shipments had been slowly increasing since 2017, outside of a slight dip in 2020. This year marks an enormous crash in the Pentagon's Thanksgiving beef trade.
Shrimp, a Thanksgiving item that rarely earns the stardom that turkey or sweet potatoes garner, weighed in at around 17,884 pounds this year. Troops apparently ate 67,860 pounds of the pink crustacean in 2018. That said, they ate less than half that the year prior, signaling that the Pentagon's holiday shrimp market may be more volatile than previously believed.
Sweet potatoes saw their lowest weight since 2018, though critical sweet potato data was not available for 2017. Coming in at just over 9,000 pounds, sweet potatoes dropped by a whopping 77% from last year.
"We have a lot of great teammates at Troop Support who are working hard throughout the year to provide for our warfighters both at home and far away — especially during the holidays," Army Brig. Gen. Eric Shirley, DLA Troop Support commander, told Military.com via statement over email.
https://www.military.com/daily-news/2022/11/22/less-nog-more-turkeys-dods-thanksgiving-meal-market-proves-volatile.html
About Post Author