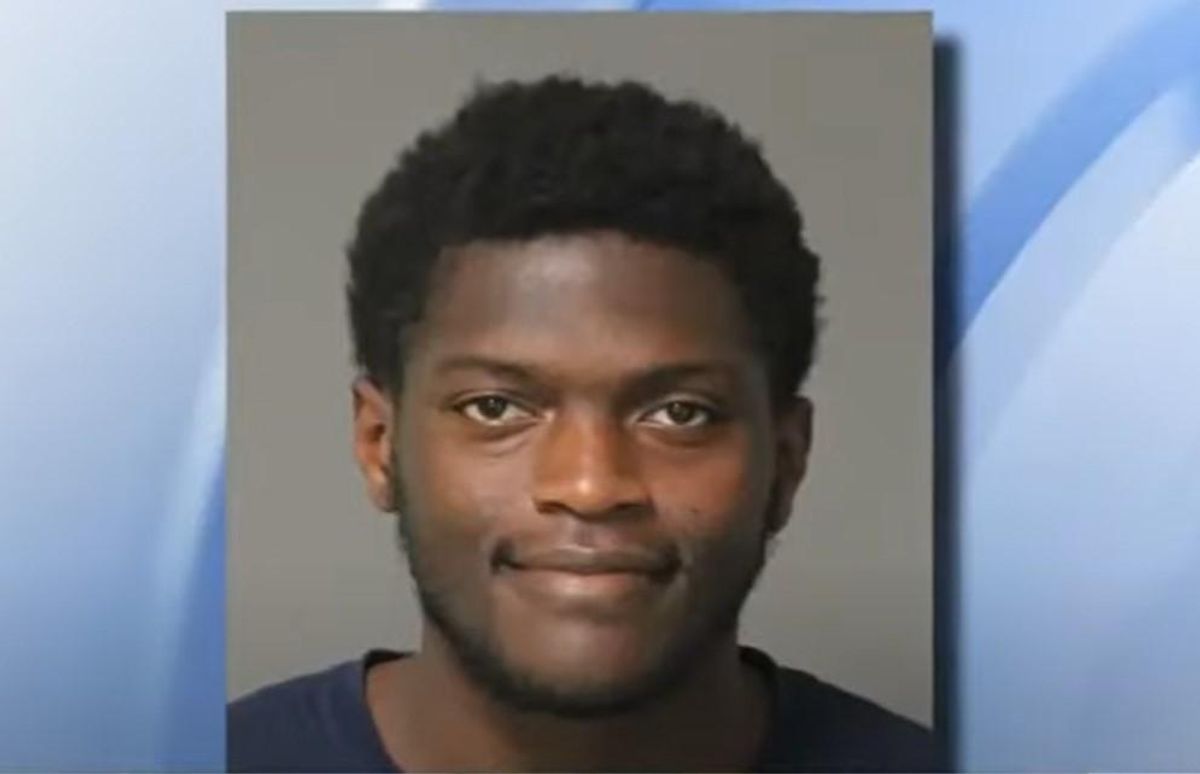 A former defensive lineman for the North Carolina State Wolfpack has been arrested and charged with stalking and threatening the team's head coach.
Earlier this week, Joseph Boletepeli, 22, was arrested for posting threatening messages about NC State head coach Dave Doeren, 50, on social media and sending other threats via text message. Boletepeli also recently "went to Doeren's place of work several times," investigators alleged, even though he has not been enrolled at the school for almost three years.
One tweet, allegedly from Boletepeli, is particularly disturbing. On November 14, Boletepeli reportedly tweeted, "Imma get him I promise. Dave Doeren and the rest."
That tweet was allegedly posted just one day after a horrific shooting involving the University of Virginia football team. Police say that on November 13, former UVA walk-on Christopher Darnell Jones Jr. shot and killed three of his former teammates: D'Sean Perry, Lavel Davis Jr., and Devin Chandler.
Boletepeli, a native of Raleigh, North Carolina, had reportedly been spotted at NC State facilities and had sent other threatening messages via text and through other members of the Wolfpack coaching staff.
Court records characterize Boletepeli's behavior as that which "would cause a reasonable person to suffer substantial emotional distress by placing that person in fear of death, bodily injury … or the safety of the person's immediate family."
Boletepeli has been charged with communicating threats and misdemeanor stalking. He also faces charges for resisting arrest after police say he attempted to pull away when they were trying to detain him. He was released from custody on $25,000 bond and placed on house arrest. He is currently wearing an ankle bracelet. He must steer clear of Doeren and the NC State campus as a condition of his release.
Boletepeli — a 6-foot-four, 262-pound former defensive end — was a 3-star prospect when he signed with the Wolfpack. Between the 2018 and 2019 seasons, he appeared in at least six games and recorded 13 tackles and 1.5 sacks. He then transferred to the University of Maryland and played in four games for the Terrapins. He was listed on the Terps' roster at the 2021 spring game, but was not on the team's final roster when the season kicked off later that year.
In an email, a spokesperson for NC State told the Daily Mail, "The university cannot comment on an ongoing legal matter. Our focus remains on the safety and well-being of our staff, student-athletes and the rest of the campus community."
In light of the allegations, NC State has reportedly fortified security at its football facility, the Wendell H. Murphy Center. On Saturday, the Wolfpack (7-3) travel to Louisville before closing the season in Chapel Hill against rival North Carolina. Doeren's overall record with the team is an impressive 71-52. The Wolfpack have gone to a bowl game seven times under his leadership and will go to another at the end of this season.
https://www.theblaze.com/news/former-nc-state-football-player-charged-with-stalking-threatening-his-old-coach-imma-get-him-i-promise
About Post Author