Macy's drops partnership with Salvation Army. The department store is shifting its corporate giving priorities to focus on LGBTQ teens.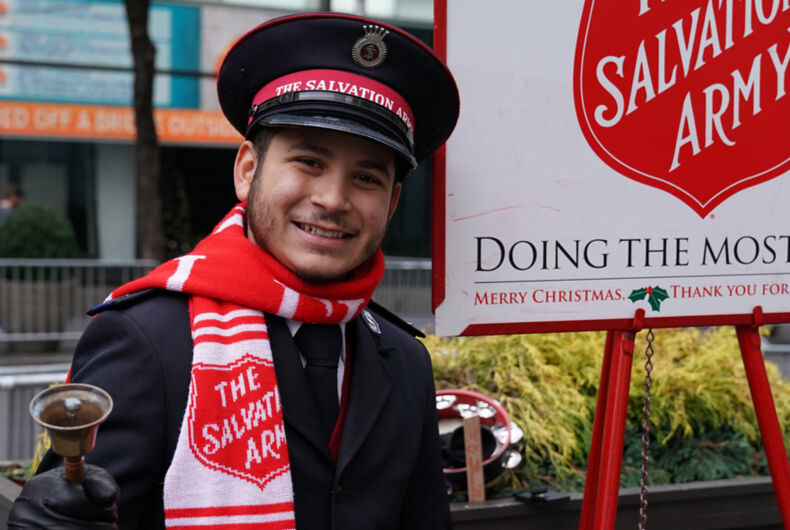 By Bil Browning
The department store Macy's has dropped a longstanding partnership with the Salvation Army. The charity has been accused of being anti-LGBTQ but has made a dramatic turnaround over the past decade.
"We reevaluated our cause and community work and made a significant commitment to driving societal change by empowering underrepresented youth in our community," a Macy's spokesperson said. "With this shift, we made the difficult decision to not continue our partnership with the Salvation Army this holiday season."
Macy's is a corporate ally of the queer community. The store is a major supporter of the Trevor Project, a suicide prevention helpline for LGBTQ youth. The company has shifted to focus on their Mission Every One corporate social purpose plan. They plan to give out $5 billion aimed at "creating a more equitable and sustainable future by 2025."
The LGBTQ community has boycotted the Salvation Army for over a decade after a 2010 article on The Bilerico Project, a precursor to LGBTQ Nation, exposed their history of discrimination against the queer community. The evangelical church changed its doctrine on LGBTQ issues and issued a guide to volunteers and staff on fighting racism and homophobia, spawning scorn and anger by the religious right.
"The Salvation Army is incredibly thankful for the many years of Red Kettle partnership with the Macy's Corporation," a Salvation Army spokesperson said in a statement. "Macy's decided not to renew our annual Red Kettle agreement in 2022 to focus on other nonprofit causes at this time. We are grateful for all our continuing national and local Red Kettle partners and the generosity of the public to help us help their neighbors in need, which is greater than ever this season."
Kenneth Hodder, the National Commander of the Salvation Army, had a sharp rebuke for conservatives upset over the group's guide to navigating racism.
"Have we made mistakes over the years?" he asks in a video posted to the group's YouTube channel. "You bet we have. Do we want to keep learning? You bet."
"Are we willing to discuss new ways to increase diversity? Absolutely. Discussion is what reasonable people do," he continued. "But nothing, nothing, will change the fundamental commitments that have characterized the Salvation Army for the past 156 years."
"Our mission is still to preach the gospel of Jesus Christ and meet human needs in his name without discrimination. The Salvation Army is not on the left. It's not on the right. We're where we've always been: following Jesus Christ."
https://www.lgbtqnation.com/2022/11/macys-drops-partnership-salvation-army/