2 sisters arrested after heated road-rage incident in Michigan: Report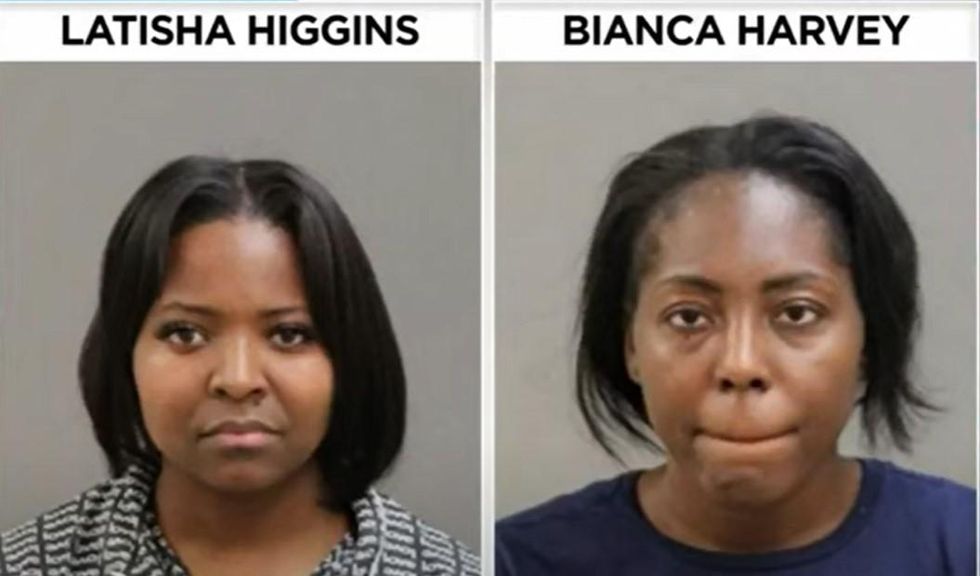 Two sisters in Michigan were arrested earlier this week after one sister allegedly made false accusations and the other allegedly assaulted police officers in a road-rage incident that was personal from the start.
Just before 2 p.m. on Wednesday afternoon, police received a call from Latisha Yvonne Higgins, 36, of Warren, Michigan. Higgins was on the road, driving a Jaguar, and claimed that her sister, Bianca A-C Harvey, 31, of nearby Sterling Heights, was chasing her in her Jeep.
Higgins also told police that Harvey had fired shots at her vehicle, though witnesses disputed that claim. Witnesses also alleged that Higgins threw an object at her sister's Jeep.
Higgins made the call when she was near the intersection of 10 Mile Road and Schoenherr (pronounced SHAY-nur) in Warren. When police tried to pull Higgins over about a mile and a half south of the intersection, Higgins supposedly evaded them and led police on a short chase of less than a mile before she eventually came to a stop. By that time, both Higgins and police had crossed over into Detroit.
As police were placing Higgins under arrest for evading them, Harvey reportedly pulled up in her Jeep. She supposedly got out of her vehicle and began physically assaulting Higgins and the police officers arresting her. Harvey was then likewise placed under arrest and taken into custody.
"This incident involved an argument between two female family members known to each other," Warren Police Commissioner Bill Dwyer said in a news report after their arrest. "Thankfully, there were no shots fired during this incident. Patrol officers were on scene quickly and were able to prevent any additional violence from occurring."
News reports later confirmed that the two are sisters.
Harvey has been charged with felony resisting or obstructing police and misdemeanor domestic violence. She was arraigned on Thursday and released on $5,000 bond.
Her sister, Higgins, was also charged with felony resisting or obstructing police and misdemeanor domestic violence. However, Higgins faces the additional charge of third-degree felony fleeing and eluding. She, too, was arraigned on Thursday and released on $10,000.
Following their respective arraignments, Dwyer expressed his frustration that the sisters had been released back into the community.
"I am disappointed that a visiting judge issued a personal bond for two individuals charged with felonies," Dwyer said. "This is another disappointment to law enforcement officers who go out every day to protect the public."
Both Harvey and Higgins are expected back in court on December 1 for a probable cause hearing.
https://www.theblaze.com/news/2-sisters-arrested-after-heated-road-rage-incident-in-michigan-report