The Best Spinach Artichoke Dip Ever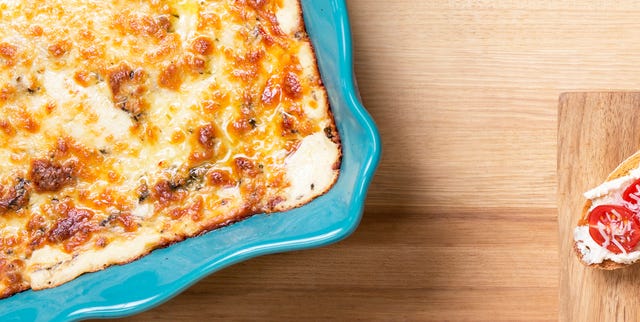 By Ree Drummond
I made this last week. Boy, was it ever good.
I love spinach artichoke dip. Call me Ms. 1994, okay? But I can't help it. It's so darn good.
Every time I make spinach artichoke dip, it's different.
But this one was definitely the best.
No, really. It was.
Ingredients
3 tbsp.butter
4 tbsp.garlic, minced
1bag spinach
Salt and pepper, to taste
2cans artichoke hearts, rinsed and drained
3 tbsp.butter (additional)
3 tbsp.flour
1 1/2 c.whole milk (more if needed)
1package (8 ounce) softened cream cheese
1/2 c.crumbled feta
1/2 c.grated parmesan
3/4 c.grated Pepper Jack cheese
1/4 tsp.cayenne
Extra grated Pepper Jack
Pita wedges, tortilla chips, crackers
Directions
1

Melt 3 tablespoons butter in a skillet over medium heat. Add the minced garlic and cook for a couple of minutes. Crank up the heat a bit and throw in the spinach. Stir around and cook for a couple of minutes until the spinach wilts. Remove the spinach from the skillet and put it in a small strainer. Squeeze the excess juice back into the skillet. Set the spinach aside.

2

Throw in the artichokes and cook over medium high heat for several minutes, until liquid is cooked off and artichokes start to get a little color. Remove the artichokes.

3

In the same skillet or a different pot, melt 3 additional tablespoons of butter and whisk in 3 tablespoons of flour until it makes a paste. Cook over medium-low heat for a minute or two, then pour in milk. Stir and cook until slightly thickened; splash in more milk if needed.

4

Add cream cheese, feta, Parmesan, pepper jack, and cayenne and stir until cheese are melted and sauce is smooth. Chop artichokes and spinach and add to the sauce. Stir to combine.

5

Pour into buttered baking dish. Top with extra grated pepper jack and bake at 375 for 15 minutes, or until cheese is melted and bubbly.

6

Serve with pita wedges, chips, or crackers!
https://www.thepioneerwoman.com/food-cooking/recipes/a11384/the-best-spinach-artichoke-dip-ever/