Chainsaw-wielding fugitive walks toward deputy, who orders him to put it down. Instead, fugitive grabs shotgun, points it at deputy — who then opens fire on suspect.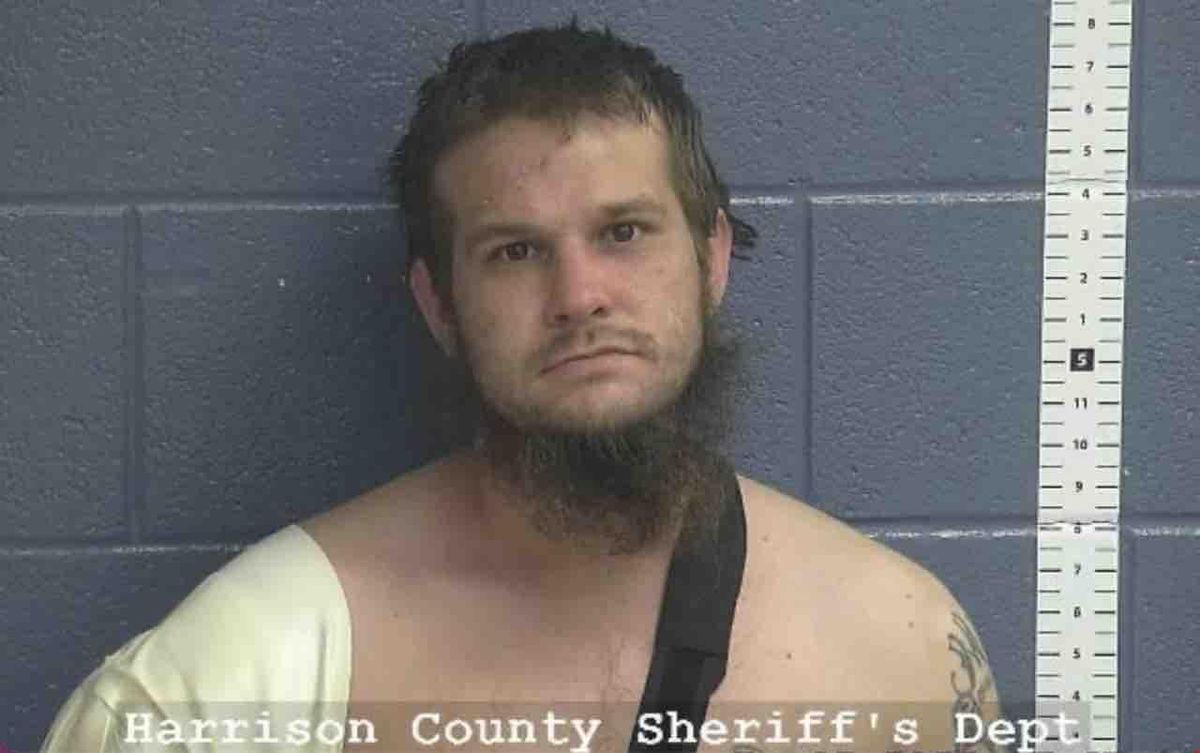 An Indiana sheriff's deputy shot a fugitive last week who authorities said raised a shotgun at the deputy who was attempting to serve warrants to him.
What are the details?
Three fully uniformed Harrison County sheriff's deputies in marked patrol vehicles traveled Friday to a residence on North Tobacco Landing Road in Laconia to serve active felony warrants out of Kentucky and Indiana to 28-year-old Michael W. Kerns, authorities said.
The deputies arrived at the location around 11:40 a.m. and went to a detached garage in the rear of the residence — and that's where Kerns' white pickup truck was seen in front of the garage.
Deputy Sean O'Sullivan saw Kerns inside the garage — and after the deputy made contact with the fugitive, Kerns began approaching O'Sullivan while holding a chainsaw.
O'Sullivan ordered Kerns to put the chainsaw down and come outside, but Kerns wouldn't comply and instead walked toward a room in the garage.
With that, the deputy entered the garage and continued to order Kerns to come outside, but Kerns walked into the room in question and grabbed a shotgun.
O'Sullivan ordered Kerns to put the shotgun down, retreated out of the garage, told his fellow deputies that Kerns was armed, and took cover behind Kerns' pickup truck.
Kerns then ran out of the garage and raised the shotgun toward the deputy, who responded by firing three 9mm rounds at Kerns, striking him once in the right shoulder, authorities said.
Kerns was immediately taken into custody, and the shotgun was secured. No deputies were hurt, WAVE-TV reported.
What happened next?
Kerns was taken to a hospital, after which the sheriff's department asked detectives and crime scene investigators from the Indiana State Police to process the scene and investigate the shooting. All body camera and in-car videos were given to the state police, and O'Sullivan was placed on paid administrated leave amid the investigation.
Kerns was charged with possession of over 10 grams of methamphetamine with a firearm, intimidation, criminal recklessness, resisting law enforcement, and pointing a firearm — all felonies, Harrison County Sheriff Nick Smith told TheBlaze on Wednesday. Smith added to TheBlaze that Kerns is behind bars.
https://www.theblaze.com/news/chainsaw-wielding-fugitive-walks-toward-deputy-who-orders-him-to-put-it-down-fugitive-instead-grabs-shotgun-points-it-at-deputy-who-then-opens-fire-on-fugitive
About Post Author