Oregon school district pulls students from camp over nonbinary counselors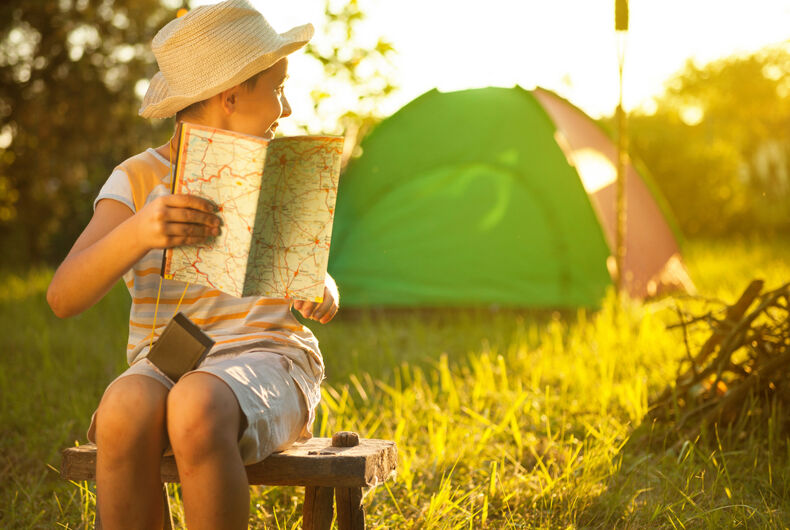 By Erin Rook
Do parents have a right to know if their children will be camping with trans and nonbinary people? That's the question being raised after a rural Oregon superintendent pulled students from an overnight camp over discomfort with nonbinary counselors.
Every year, thousands of 5th and 6th graders travel to Oregon's Camp Tamarack to enjoy three days of outdoor school. They learn about nature, go canoeing in the lake, and perform skits around the campfire at night. But this year, the presence of trans and nonbinary camp counselors led to growing complaints from conservative parents, who accused the teen and young adult counselors of "grooming" children.
In a letter to parents, Culver Schools Superintendent Stefanie Garber wrote that she chose to "err on the side of caution" and bus the students home shortly after their arrival because "some students expressed discomfort with the arrangements to our teachers that were with them."
"Sleeping in cabins with, and potentially dressing in front of the counselors was the source of the discomfort," she explained. "Some of the counselors identify as 'non-binary,' not all of them, but some of them."
Garber said that if she had known the camp had nonbinary counselors, she would have given parents and students the option to stay in a different cabin. But sharing the gender identity of counselors would likely be a violation of Oregon's nondiscrimination protections. Oregon Department of Education spokesperson Marc Siegel told OPB News that state policy prohibits discrimination based on gender identity, but did not specify if the district's actions were discriminatory.
"An individual's gender identity is protected under state and federal guidance and is not information we share with others," explained Dr. Steven Cook, superintendent for the neighboring Bend-La Pine School District, which also sends students to Camp Tamarack for outdoor school. "This follows the law and our policies and – more than that — it's the right thing to do."
Camp Tamarack's Executive Director Charlie Anderson said that the concerns shared by the Culver superintendent misrepresent the camp's accommodations, which include private changing areas. Students do not shower while at outdoor school. Anderson also pointed out that the camp has had transgender high school students serve as counselors in past years and it was never an issue.
"Our hearts are heavy for the kids from Culver who did not get to have a camp experience this week," Anderson told Central Oregon Daily. "We also feel deeply for the high school students (also kids) who were singled out because of their identities."
The camp has put effort into creating a space that is inclusive and welcoming to all students, staff, and volunteers. Since 2019, Camp Tamarack has participated in multiple trainings with transgender inclusion expert Jenn Burleton, program director for the TransActive Gender Project at Lewis and Clark University and a 2021 LGBTQ Nation hometown hero.
"That training went very well, with staff and counselors asking great questions. It was important to them that the information I was sharing was backed by evidence from reputable sources," Burleton told LGBTQ Nation.
But most of the region's parents have not had the benefit of this type of education.
Even in Oregon, which has some of the strongest legal protections for transgender people in the nation, transphobic rhetoric is showing up in school board meetings and conservative parent groups.
"Considering the extensive distribution of hate mongering disinformation about trans people, and gender diversity in general I can't say I was 'surprised' by the actions of the Culver leadership and some of the parents," Burleton explained. "They are being bombarded almost nightly by Tucker Carlson, Laura Ingraham and others with anti-trans propaganda intended to isolate, marginalize, and dehumanize trans, non-binary and gender expansive people from every aspect of public life."
That propaganda also shows up in statements from Oregon's Republican gubernational candidate Christine Drazan, who has said that she would ban transgender girls from competing with cisgender girls in school sports.
In the weeks leading up to Culver pulling students from camp, complaints began bubbling up from parents in other districts who expressed discomfort with the idea of trans and nonbinary counselors.
"So, my 5th grade son just returned from Camp Tamarack, their outdoor school," parent Aaron Thomas shared in a public Facebook post. "Within 2mins of getting into the car, he proceed to tell me that they had a gay pride campfire, where they learned about gay culture! All taught by a guy who was gay and became a girl and can somehow magically become pregnant if it chooses."
Thomas continued: "Now, my opinion on the LGBTVQRSTUV lifestyle is irrelevant, but the exploitation, indoctrination, and subversion of our children has to end. Ones sexual preference will work itself out in time, on its own, without the need of outside influences guiding the decision, especially the guidance of those who would dare to begin the grooming process on elementary students!"
Like many of those who shared concerns on social media, Thomas appears to conflate gender identity and sexual orientation. He also parrots the popular GOP claim that LGBTQ people are "grooming" children. But many former campers, families, and staff have praised Camp Tamarack for providing a safe and nurturing environment for learning and leadership development.
"I was a counselor and student leader at Tamarack for four years," August Singer shared in a Facebook post. "I am also a transgender man who came out while in college. Working at Tamarack taught me so much about leadership, responsibility, the value of nature and education, how to advocate for the rights of oppressed people, and so much more. Every good aspect of myself was molded by Tamarack and I'm so so incredibly grateful for its role in my life."
It's not the camp's inclusive policies that put students at risk, one parent argues, it's the transphobic community backlash that is causing harm.
"If my kids ever wanted to be camp counselors I would have to worry about their safety," Jamie Bowman, whose two youngest children are transgender and nonbinary, told LGBTQ Nation. "I guess I need to know what magical age they start being dangerous. It feels so shitty that, for the rest of their lives, kids have to know about all the possible outcomes when they're outed. There isn't a grace period where they get to just be kids and be protected from it."
Bowman said that the situation highlights the double standards applied to LGBTQ youth.
"I would love for kids who are trans and queer to be viewed as children who also need safety and protections instead of as 'politics' and scapegoats," she said. "LGBTQ kids are actually in danger because of that not happening."
https://www.lgbtqnation.com/2022/11/oregon-school-district-pulls-students-camp-nonbinary-counselors/