First black royal guardsman speaks of racist abuse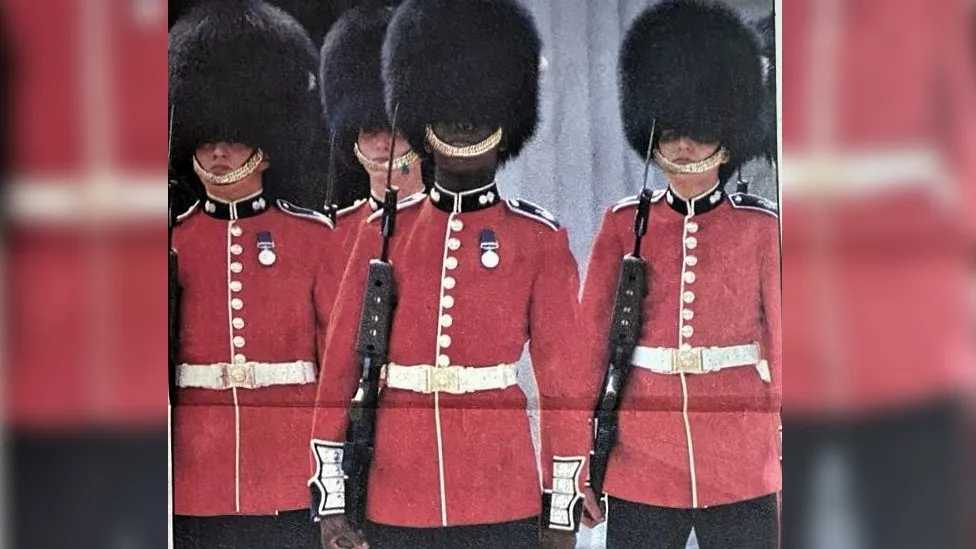 By Nathan Heath & Tess de la Mare
The first black man to join an elite regiment that guarded the late Queen says writing a book about his experiences was "a coping mechanism" for the racism he faced.
Bristolian Richard Stokes joined the Grenadier Guards in 1986 after encouragement from his adoptive father.
It came after remarks by then-Prince Charles there were no black faces "under the bearskin".
But in his first years in the military Mr Stokes endured "horrendous" abuse.
He had been adopted by a white family at nine months old, and had loved his time as an army cadet as a teenager.
A military career seemed logical, but upon applying to the Foot Guards he was immediately told the Irish, Scots and Welsh Guards would not have him, "because I was black".
Speaking ahead of the release of his book, Trooping the Culture, Mr Stokes said he chose the Coldstream Guards but was moved to the Grenadiers a few weeks into training, with no explanation.
He told BBC West: "My first and second year were just horrendous, and in fact my first six months to a year during training was probably the worst experience of my life."
Mr Stokes described 200 soldiers shouting racial slurs at him when the minibus carrying new trainees pulled up at the Pirbright Camp in Surrey.
"I was actually scared to walk around the camp, because randomly people would be shouting out of windows the same words but I couldn't see their faces, they were hidden," he said.
He stayed with the regiment for four years, guarding numerous royal residences including Buckingham Palace, Windsor Castle and Clarence House.
As well as taking part in ceremonial duties such as the Trooping of the Colour and the Changing of the Guard, he completed tours of duty in Northern Ireland, Kenya and Canada.
Mr Stokes, now in his early 50s, went on to forge a career in the navy and is now diversity and inclusion manager for Avon Fire and Rescue Service.
Describing the experience of writing his book, which will be published on Amazon next month, he said: "For me it was about coping mechanisms.
"I suppress a lot of the pain and the trauma, and writing the book really dug that up for me.
"It has been a tough journey to actually remember it all and to actually put it down in a concise way."