Man in creepy horror-movie clown mask accused of sexually assaulting one woman, then robbing another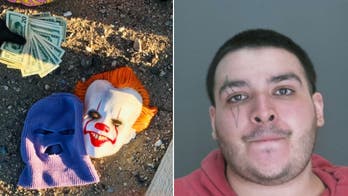 A man wearing a horror-movie clown mask was accused of attacking two women in two separate instances in the middle of the day on Tuesday in California, authorities reported.
One of the female victims told police that after she withdrew money from an ATM in San Bernardino county, she was attacked by a man wearing a clown mask and red sweatshirt, KTLA reported.
The victim stated that the suspect robbed her while she was inside her vehicle in a parking lot by the ATM. She reported that the man fled the scene after taking her money.
When officers responded to the call, they located a man near the scene who matched the suspect's description. Authorities apprehended the suspect and identified him as 22-year-old Joel Hernandez.
Deputies searched Hernandez's backpack and discovered the clown mask, a ski mask, and $500 in stolen cash.
"He had a backpack he was carrying. In that backpack, they located the money that was taken from the victim, as well as some other items that helped ID him as the suspect," said Mara Rodriguez, spokesperson for the sheriff's department. "They also recovered that plastic clown mask and another ski mask that he was apparently wearing at the time."
After Hernandez was detained, investigators later discovered that he had allegedly attacked another woman only two hours before the robbery.
---

TILLAMOOK
---
That victim told deputies that she was sexually assaulted and groped by a man wearing a clown mask while in a grocery store parking lot two miles away from where the robbery occurred. She stated that the suspect approached her from behind while she was standing outside her vehicle.
The victim provided a detailed statement to police and positively identified Hernandez as the man who attacked her on Tuesday.
"I know that he did approach her from behind while she was at her car, and he basically grabbed her and held her for just a matter of seconds," Rodriguez said.
KTLA reported that both victims were in their 50s.
Hernandez was arrested on suspicion of robbery and sexual assault and is being held on $200,000 bail. Authorities stated that Hernandez may have attacked other women.
https://www.theblaze.com/news/man-in-creepy-horror-movie-clown-mask-accused-of-sexually-assaulting-one-woman-then-robbing-another#toggle-gdpr
---