'Jeffrey Dahmer Special' display at Texas pizza joint sparks controversy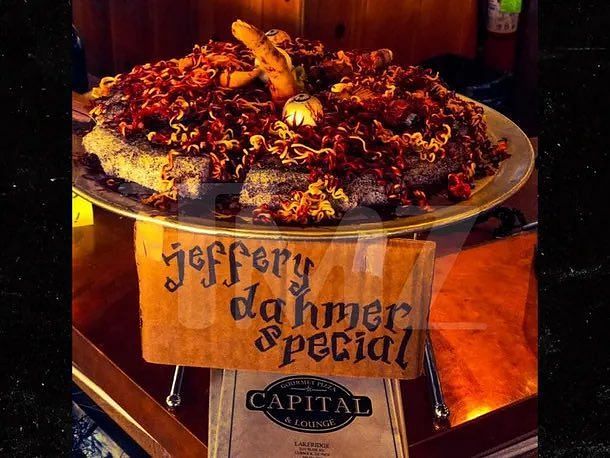 A Halloween display at one Lubbock, Texas, pizzeria has some people screaming — but not for the reasons the management had hoped.
Capital Pizza — which, according to its website, offers "hot, unique, & satisfying pies & sandwiches" — created a counter display entitled the "Jeffrey Dahmer Special," a gruesome-looking faux pie with toppings resembling eyeballs, fingers, intestines, and blood.
Jeffrey Dahmer was a notorious serial killer who dismembered and then consumed many of the bodies of his victims. Between 1978 and 1991, Dahmer murdered 17 men and underage boys, many of whom were black. He was convicted in 1992 and sentenced to life in prison. He was murdered by a fellow inmate in November 1994.
A recent Netflix series brought the story of Dahmer's heinous crimes back into the news. Between the Netflix series and the upcoming spooky holiday, one Capital Pizza server thought that a Dahmer-themed decoration might put people in the Halloween spirit. The "Jeffrey Dahmer Special" was then created for display purposes only. It is not a menu item and is not available for purchase.
Many customers have really enjoyed the display. According to an unnamed manager, people have come into the store just to see it in person. Some kids even want to have their picture taken with it.
Despite the enthusiasm expressed by some, the display has likewise left some customers and many social media users feeling sick to their stomachs.
"This is horrible! I am so tired of all of the 'celebration' over Dahmer," wrote one Facebook user. "I remember when all of that went down. I didn't like it then and I am definitely not going to watch the Netflix series about him. Why would anyone want to put that in their minds? It is horrible that the families of Dahmer's victims, have to have their bandages ripped off just so they can be reminded of what happened to their loved ones."
"Disgusting! People's minds are warped and twisted. Pray for them," another user commented on TMZ's Facebook page.
The store manager claimed that the display has been up for about three weeks. The restaurant intends to take it down after Halloween is over.
https://www.theblaze.com/news/jeffrey-dahmer-special-display-at-texas-pizza-joint-sparks-controversy
About Post Author