'Thought it was antibacterial?': Consumers slam Clorox for recall of 37M Pine Sol cleaners that may have bacteria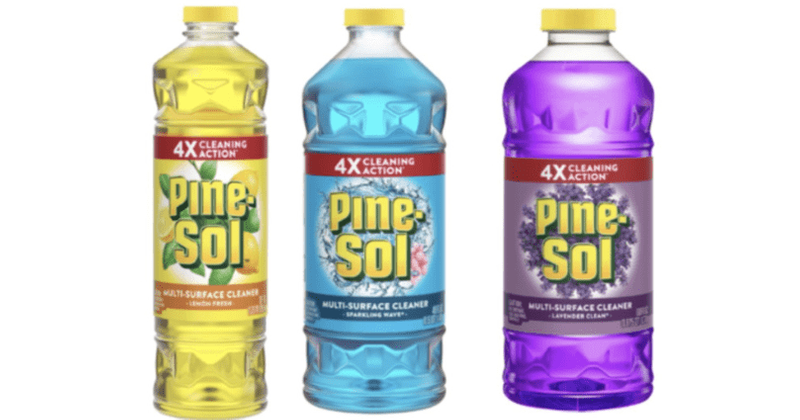 The United States Consumer Product Safety Commission has recalled three of Clorox's Pin-Sol cleaning products due to the risk of bacteria. They are Pine-Sol Scented Multi-Surface Cleaners in Lavender Clean, Sparkling Wave, and Lemon Fresh scents, CloroxPro Pine-Sol All Purpose Cleaners, in Lavender Clean, Sparkling Wave, Lemon Fresh, and Orange Energy scents, and Clorox Professional Pine-Sol Lemon Fresh Cleaners.
The hazard mentioned is the possibility that these products contain harmful bacteria, including the Pseudomonas aeruginosa, normally found in contaminated soil and water. Even though people with healthy immune systems may not necessarily be affected, people who have a weaker immunity are prone to the risk of infection. The bacteria could enter their system when inhaled, or through the eyes or any sort of break in the skin and it may require medical treatment.
According to the recall announcement released on October 25, those who have bought the listed products through various outlets can get a refund. The products manufactured between January 2021 and September 2022 are the ones identified with bacteria —  accounting for about 37 million bottles. The consumers can check for the date codes that begin with the prefix 'A4' and are followed by the five-digit number less than 22249. The bottles sold were in various sizes, namely 28, 48, 60, 100, 144, and 175 fluid ounces.
The consumers are instructed to click the picture of the 12-digit UPC code and then discard the bottles in their household trash. For a full refund, they can contact Pin-Sol for the retail price with a receipt or for the manufacturer's price without a receipt. The products were sold at Amazon.com and other retail stores and websites like Walmart, Sam's Club, Dollar General, Target, Home Depot, BJ's, Kroger, Dollar Tree, Lowe's, Publix, etc. This also includes all other major retail outlets.
Even though there were no incidents or injuries reported, some reactions on Twitter tell the stories of those who had to face the hazard. One user tweeted, "My daughter is on a ventilator because of this bacteria. She got sick from it in January and coded from it. Now on 24hour care. Not from this cleaner but, we don't know from what. Take this seriously that bacteria can kill."
My daughter is on a ventilator because of this bacteria. She got sick from it in January and coded from it. Now on 24hour care. Not from this cleaner but, we don't know from what. Take this seriously that bacteria can kill.

— Angie (@nglvsdd) October 26, 2022
However, there were a lot of responses that joked about how the disinfectant could not kill the germ inside it or that the bacteria in the product was the "0.03% of the germs" the cleaner could not kill! One user said, "It must be part of that 0.03% of germs it doesn't kill." while another one said, "I thought it was antibacterial 😧😧😧". Another user commented, "I won't be buying pine-sol anymore if bacteria can survive in it…."
But some people explained how the disinfectant can still have the bacteria and how it was biologically possible. When one disgruntled consumer wrote, "Clearly not a great cleaning product if it can't kill bacteria that is in the product," another user replied, "Cleaning and disinfecting are two different things. Most products are meant to clean… with a few including disinfectant properties. I should mention that the over use of antimicrobials, disinfectants, antibiotics has a negative effect on immune systems." Another user commented, "Ok, as a biologist, I know that's technically possible. It's still extremely hard to do. You almost have to do it on purpose. That just blows my mind."
Cleaning and disinfecting are two different things. Most products are meant to clean… with a few including disinfectant properties. I should mention that the over use of antimicrobials, disinfectants, antibiotics has a negative effect on immune systems.

— Davinci314 (@Davinci3144) October 26, 2022
https://meaww.com/clorox-recalls-37-million-pin-sol-cleaners-from-the-market-due-to-possible-bacteria-twitter-reacts