DoD Schools Get Better Marks Than Civilian Schools on 'Nation's Report Card' Following Pandemic Closures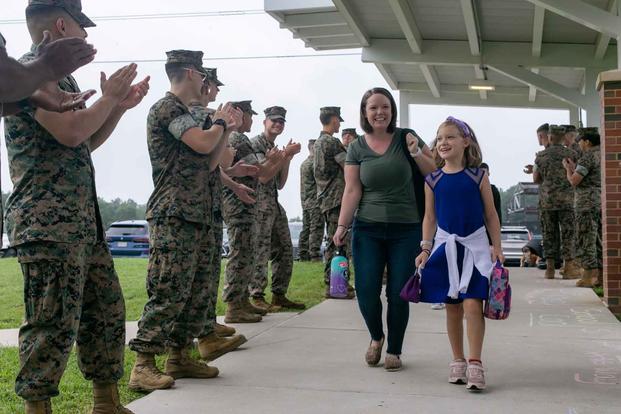 Fourth and eighth grade students in Defense Department schools scored better in a national assessment of math and reading skills than their civilian counterparts as nationwide averages dropped in the first comprehensive appraisal since the COVID-19 pandemic.
In data released Monday for the 2022 National Assessment of Educational Progress (NAEP) Reading and Mathematics Assessments, also known as "the nation's report card," students in Department of Defense Education Activity, or DoDEA, schools scored an average of 15 to 23 points higher than the national averages and held steady or increased from the previous assessment in 2019, even as most jurisdictions saw decreased scores.
"This year's scores are the result of a six-year commitment to rigorous College and Career Ready Standards curriculum, combined with an exceptionally dedicated team of teachers and administrators, support staff, and military-connected students who displayed tremendous grit and resilience over the past two and a half years," Gil Cisneros, the under secretary of defense for personnel and readiness, said in a statement Monday.
At least half of DoDEA students were proficient or above in fourth grade math and reading and eighth grade reading, though just 41% of eighth graders were proficient in math.
Like most school districts, DoDEA, which operates 160 schools on U.S. military bases around the globe for nearly 70,000 kids, moved to remote learning in early 2020 at the beginning of the pandemic.
But in August 2020, as many schools across the United States continued to stay remote, many DoDEA schools reopened for kids to return in person.
The nation's report card is a test administered by the Department of Education's National Center for Education Statistics for a broad sample of fourth and eighth grade students across the country. Tests are averaged across jurisdictions on a scale of zero to 500, with the score to be considered "proficient" differing based on subject and grade level. The test, which dates back to the early 1990s, is typically given every two years, but the pandemic delayed the 2021 assessment.
At average scores of 250 for fourth grade math, 235 for fourth grade reading, 292 in eighth grade math and 282 in eighth grade reading, DoDEA ranked No. 1 in all four categories above every state, Puerto Rico and the District of Columbia.
The nationwide results for 2022 are being seen as a sign of the effect pandemic-related school closures and shifts to remote schooling had on kids' learning, though reading scores started declining before the pandemic. Some students faced challenges learning virtually because of a lack of access to technology; difficulty paying attention to a screen; parents juggling their own remote work with ensuring their children paid attention; and teachers scrambling to adjust curriculums and balancing their job with their own families being home, among other reasons.
"The results released today from the National Assessment of Educational Progress are appalling, unacceptable and a reminder of the impact that this pandemic has had on our learners," Education Secretary Miguel Cardona said in a statement Monday. "The data also represent a call to action for the important work we must do now for our students — especially those who have suffered the most during the pandemic."
Nationwide, reading scores dropped an average of three points for both fourth and eighth graders compared to 2019, and just 33% of fourth graders and 31% of eighth graders were considered at least proficient in 2022, according to the report card. In math, scores dropped the most they have since 1990, with a five-point decrease for fourth graders and an eight-point decrease for eighth graders. Just 36% of fourth graders and 26% of eighth graders were considered at least proficient in math.
DoDEA schools bucked those trends. Reading scores for fourth graders were the same in 2022 as 2019, and for eighth graders were two points higher in 2022. Math scores held steady for both fourth and eighth graders in 2022 compared to 2019.
"DoDEA leaders focused on equity of access and continuity of instruction during the early stages of the pandemic with a rapid transition to remote learning, then worked to create conditions that enabled students to start returning to classrooms by the beginning of School Year 20-21," Cisneros said in his statement. "Their work, coupled with strong partnership from military commands and parents, directly supported military readiness by allowing service members with students in DoDEA schools to remain focused on their military missions."
The emphasis on equity is reflected in higher test scores among DoDEA's Black and Hispanic students than the nationwide averages, Cisneros added.
In fourth grade reading, Black DoDEA students scored an average of 226, compared to the national average of 199, and Hispanic DoDEA students scored an average of 229, compared to 205 nationwide. In math for that grade, Black DoDEA students averaged 237, compared with a 217 national average, and Hispanic DoDEA students averaged 246, compared with 224 nationwide.
In reading for eighth graders, Black DoDEA students scored an average of 271, compared to the nationwide average of 244, and Hispanic DoDEA students averaged 281, compared to 251 nationwide. In eighth grade math, Black DoDEA students averaged 272, compared with 253 nationally, and Hispanic DoDEA students averaged 284, compared to 261 nationally.
https://www.military.com/daily-news/2022/10/24/dod-schools-get-better-marks-civilian-schools-nations-report-card-following-pandemic-closures.html
About Post Author