Group of New York sheriffs say they will not aggressively enforce new gun control law that 'unfairly targets law-abiding citizens'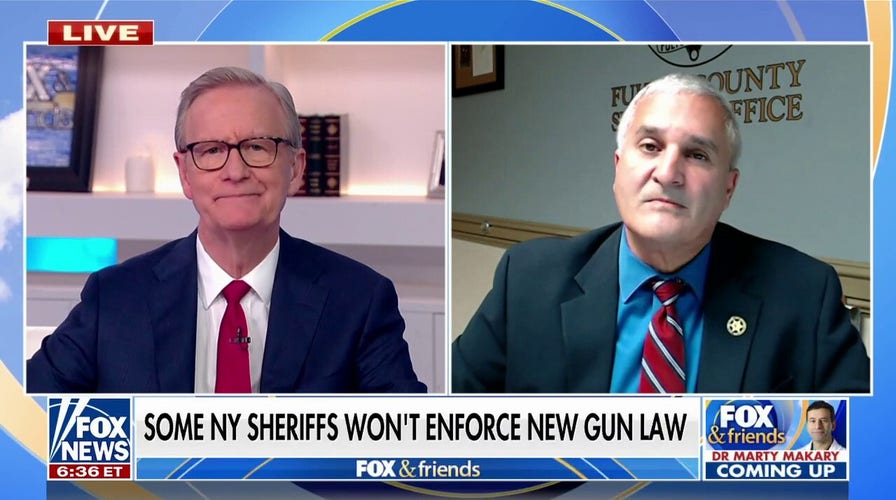 As the state of New York appeals a court decision blocking its sweeping new gun control law, a group of sheriffs say the law unfairly targets law-abiding citizens and that they won't aggressively enforce it.
The controversial Concealed Carry Improvement Act restricts licensed gun owners from carrying concealed weapons in so-called "sensitive locations," including public parks, houses of worship, government buildings, and private property except where the owners have posted signage permitting firearms on the premises. U.S. District Judge Glenn Suddaby temporarily blocked the law from taking effect on Oct. 6, ruling that these restrictions and other licensing requirements established by the state legislature were unconstitutional.
A half-dozen sheriffs agree and say they will exercise their discretion in enforcing the law, including Fulton County Sheriff Richard Giardino, who spoke to "Fox & Friends" Tuesday morning.
Giardino said his office will focus on criminals possessing weapons instead of pursuing complaints against otherwise law-abiding gun owners carrying concealed in public.
"We're going to use our discretion to not go on complaints that say, 'Oh, my neighbor has a bulge on his side, we think he's got a gun, he's in a store,'" he said.
"We have limited resources. We have limited money and we're going to use that in the best capacity," the sheriff explained. "So it's not refusing to enforce it, it's using our discretion."
He added, "It unfairly targets law-abiding citizens who previously could carry concealed and could go into a store or a restaurant. And then on September 1, all of a sudden, they could be charged with a felony."
Watch:
Several parts of the Concealed Carry Improvement Act were declared unconstitutional after gun rights advocates brought a case against New York State earlier this year. Judge Suddaby found that the state's definition of "sensitive locations" where concealed-carry permit holders cannot take their weapons was too broad.
Additionally, requirements that permit applicants demonstrate "good moral character" and turn over their social media history to the state licensing agency were found to be unlawful.
New York Attorney General Letitia James filed an appeal on Monday asking the state's highest court to issue a stay against Suddaby's injunction, which would go into effect on Wednesday.
"Today my office filed a motion to keep the entire Concealed Carry Improvement Act in effect and continue to protect communities as the appeals process moves forward. This common-sense gun control legislation is critical in our state's effort to reduce gun violence," James said in a statement.
The filing claimed public safety would be at risk if the law is not permitted to go into effect.
The gun rights group representing the plaintiffs blasted the state's appeal.
"Not surprisingly, the anti-gunners in New York appear hellbent on wasting taxpayer dollars to continue defending their patently unconstitutional gun control law. We will continue to fight back, until those in Albany recognize that their citizens' rights shall not be infringed," said Erich Pratt, senior vice president of Gun Owners of America.