Watch an Uber Delivery Robot Continue its Delivery Through a Police Crime Scene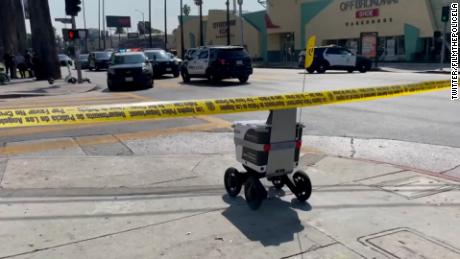 Reach Guinto
A food delivery robot forces it's way across a police crime scene. pic.twitter.com/T5DaET5Q5b

— Film The Police LA (@FilmThePoliceLA) September 13, 2022
A self-driving Uber food delivery robot must have Kobe Bryant's famous "job's not finished" post-game interview on repeat in its operating system, because it had no regard for an active police crime scene as it continued through one on its way to complete a delivery.
The unbothered energy of the delivery robot was on full display in the viral clip above, where we see it barging through a suspected shooting at Hollywood High School in Los Angeles.
Footage of the amusing scene was captured by Twitter account @FilmThe PoliceLA, where its owner, William Gude, told Gizmodo, "I just saw it coming and I couldn't believe what I was seeing."
Move aside officers, we've got a robot on duty here.
https://www.foodbeast.com/news/uber-food-delivery-robot-crime-scene/