Ferrari Purosangue SUV Finally Revealed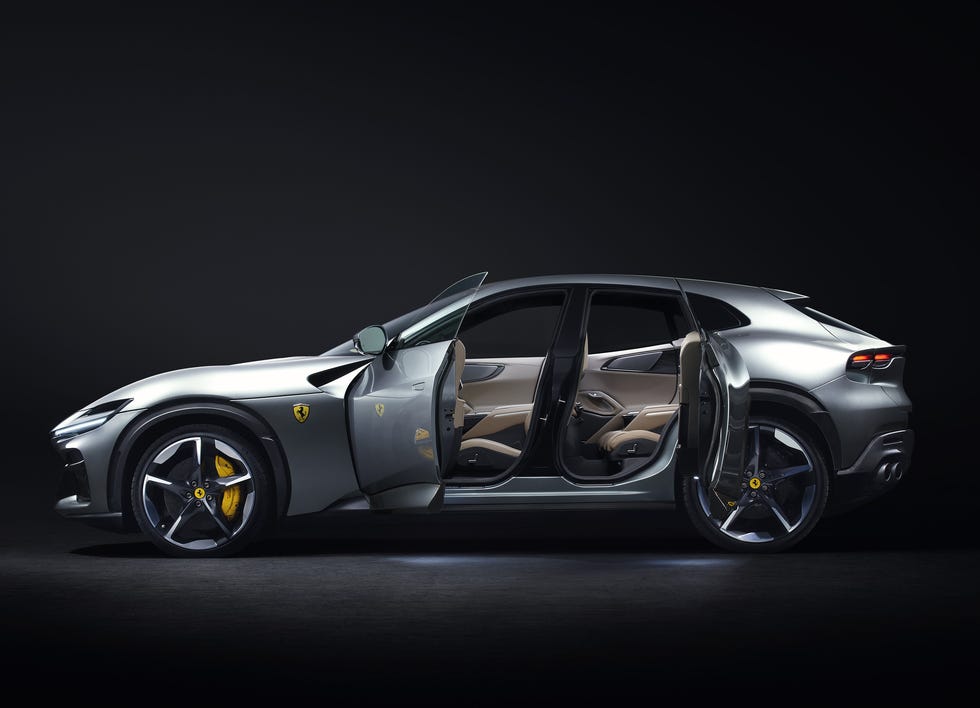 Posted For:  
BY MARK VAUGHN
I remember sitting at lunch on top of some high Alpine pass, having just driven the then-new Ferreri GTC4 Lusso, the car with a real back seat and some practical cargo space but not an SUV, and asking a Ferrari exec if they'd ever do an SUV. Before I could even get the letters, S, U, or V out, the exec pounced: "Ferrari will never do a vehicle like this, we will never do an SUV."
Ha ha!
Behold: the Ferrari Purosangue, which sure looks like an SUV!
Ferrari refuses to use the letters S, U and V in that order. In fact, the official announcement only uses the term SUV in reference to other, supposedly lesser creations from other supercarmakers. Now granted, the Purosangue is not just any SUV, it's not a body-on-frame with a separate low-range transfer case and BFGoodrich T/A KM3 tires ready to tackle the Rubicon or the Lion's Back or King of the Hammers. But it's an SUV, by today's standards of the term.
Or at least a CUV.
"After years of anticipation by the international automotive fraternity, Ferrari today unveiled the Purosangue, the first ever four-door, four-seater car in the Prancing Horse's 75-year history," Ferrari said.
To make such a vehicle a true Ferrari, the prancing horse adopted "a completely different layout and innovative proportions compared to modern GT archetypes (so-called crossovers and SUVs)," Ferrari said, the only time it mentions SUV in a few thousand words of information. Instead of the typical SUV's engine layout of the powerplant forward or straddling the front axle, with the transmission bolted directly behind it, the Purosangue has a mid-front-mounted engine positioned aft of the front axle and an eight-speed rear transaxle way out back. This results in a 49/51 front/rear weight balance that Maranello's engineers deem optimal for a mid-front-engined sports car, Ferrari says.
And what an engine it is, what other SUV has a V12? (Okay, the Lamborghini LM002 of 1986-1993, ad one, but what else?) It is similar to other applications of the F140IA, ranging from the Ferrari 812 and FF to the Maserati Birdcage 75th and even the Enzo. In this application it has the same a 65-degree V angle but also dry sump and direct injection. The naturally aspirated V12 makes 715 peak hp in the Purosangue. But Ferrari says it is also tuned for low-end torque "without losing the feeling of linear, never-ending power typical of Ferrari's naturally aspirated V12s." On the spec sheet that means 80 percent of its 528 lb ft of torque is available at or below 2100 rpm. Peak horsepower sits at 7750 revs. That's quite a spread.
Even so, "Throttle response is characteristic of a real sports car," Ferrari promises.
To achieve that, the intake, timing and exhaust systems are completely redesigned, but the heads are from the 812 Competitzione. Ferrari likes to point out that this is the most powerful engine in its segment, and it is: the Lamborghini Urus has "only" 641 hp, Porsche Cayenne Turbo S E-Hybrid Coupe 670, Aston Martin DBX 707 model 697 hp, Maserati Levante 580 hp and the McLaren… hey, McLaren is still claiming they'll never make an SUV!