Michigan town defunds 'groomer' library over its insistence to include graphic LGBT content in young adult section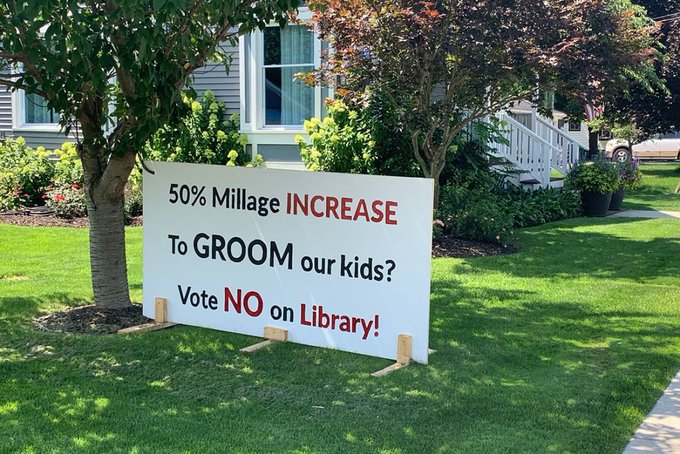 After a protracted battle over its LGBT content, residents of Jamestown Township, Michigan, voted no (62.5% to 37.5%) on August 2 to a 10-year millage renewal and increase for the Patmos Library. (A millage rate is the tax rate used to determine local property taxes.)
Bridge Michigan has reported that 84% of the library's $245,000 annual budget derives from the now rejected millage, which means, according to library board president Larry Walton, Patmos will likely run out of funds in early 2023, despite the library having $325,000 in reserve. It will also mean residents won't have their property taxes raised by $24.
Walton accused those who voted to defund the library over its LGBT content of being "short sighted."
Nathan Triplett, president of the ACLU of Michigan, lauded Walton and his team for "refus[ing] to give in" to the demands of residents of a county that voted for Donald Trump over Joe Biden by a 20-point margin.
cc: Jamestown Township, Michigan.

It's a credit to the staff and board leadership of the Patmos Library that they have steadfastly refused to give in to demand that they purge their collection of LGBTQ materials. We need more of that courage and resolve today. https://t.co/FML7zJ2f9v

— Nathan Triplett ⚖️🚌 🏕🥾 (@NathanTriplett) August 4, 2022
Another Twitter user suggested Walton had held the library hostage over LGBT pornography.
Kelly Jensen, writing for Book Riot, blamed "conservative propaganda" for painting Patmos Library "as an institution with groomers." She highlighted the efforts of a small group named the Jamestown Conservatives, which has a private Facebook page with 146 members, created on May 24. Jensen assigned them the victory: "Jamestown Conservatives, a right-wing group … is responsible for helping defund their public library."
Jensen also warned fellow liberals: "We will continue to see groups like Jamestown Conservatives across the country get onto public library and school boards to make decisions on the curriculum and materials all students have access to."
Jamestown Township resident Sarah Johnson told Bridge Michigan after voting against the millage renewal: "We're all for the library. I use it. We want to make a statement that we want some say in the books."
https://www.theblaze.com/news/michigan-town-defunds-groomer-library