Russian prosecutors seek 9 1/2-year sentence for Brittney Griner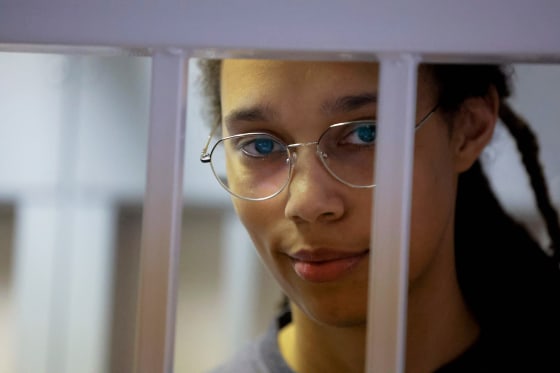 Posted For: MugsMalone
Russian prosecutors asked a court outside Moscow to sentence Brittney Griner to 9 1/2 years in prison as the American basketball star neared the end of a trial on drug charges Thursday.
The court was hearing closing arguments ahead of a verdict that could pave the way for a high-stakes prisoner swap between the United States and Russia.
In a final plea for leniency ahead of the expected verdict, an emotional Griner repeated that she never intended to break any Russian laws, calling what happened to her "an honest mistake."
Griner had faced a maximum sentence of 10 years after pleading guilty last month in a lengthy trial that has underscored the two countries' frayed relations since the invasion of Ukraine.
Griner, 31, was detained at Moscow's Sheremetyevo Airport in February; Russian authorities said they found vape canisters with cannabis oil in her luggage.
Griner, a center for the Phoenix Mercury and a two-time Olympic gold medalist, admitted the canisters were hers. She said she took them to Russia unintentionally.
One of her lawyers, Alexander Boikov, told reporters during the trial that Griner was in a hurry as she was packing and that the vape cartridges ended up in her luggage by accident.
On Thursday, Griner was led into a cage inside the courtroom in handcuffs, wearing an olive-colored shirt. Before the proceedings began, she displayed a photo of her teammates from the Russian club she played for in the WNBA off-season.
The prosecutors asked for a 9 1/2-year jail term for Griner and a one-million ruble ($16,590) fine, considering her guilt fully proven, but her lawyer Maria Blagovolina called it "nonsense."
Her defense team called into question some of the expert analysis used in the case and said Griner did not have proper interpreter access during her arrest. They also pointed out Griner's many athletic accomplishments, including in Russia.
Her lawyers reiterated that Griner has only used cannabis medically, and has never used it in Russia. They asked for Griner to be acquitted or be given the most lenient sentence possible.
https://www.nbcnews.com/news/world/brittney-griner-sentence-russia-prison-trial-rcna41270